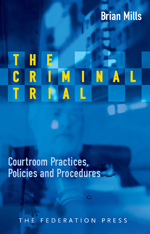 The importance of evidence presented by police officers in criminal trials is the focus of a new book by a Charles Sturt University (CSU) policing lecturer published today, Tuesday 16 August.
Mr Mills is a former NSW police officer and detective with 23 years experience. He subsequently became a solicitor who practiced criminal law and litigation during the 1990s before becoming a policing lecturer at CSU.
"The distinguishing feature of The Criminal Trial is its emphasis on the policing profession and its role in the pre-trial and trial process," Mr Mills said.
"I describe and analyse the main rules of the law of evidence within the context of the policing profession, and discuss issues relating to the 'professional witness', which should not be confused with the term 'expert witness'. I use 'professional witness' to refer to any appointed investigators with the various law enforcement agencies and regulatory authorities who are required to attend court to give evidence about matters they have investigated themselves or have otherwise had some degree of involvement with.
"This is because the ability to give evidence in court in a competent and professional manner is a core skill for an investigator in the criminal court system which resolves disputes, imposes and maintains order, and upholds human rights.
"I emphasise that a criminal trial is a true test for the investigator, who should be ever-mindful that their actions and decisions during the detection and investigation phase will later attract stringent public scrutiny by both the court and defence counsel during a trial."
Mr Mills says that holding to this precept will discourage or eliminate shoddiness and ineptitude in the investigation phase, but it can often be the case that an investigator's pre-trial diligence and rigour may amount to nothing if the investigator is seen to be the weak link in the chain that links detection, investigation and punishment of the offender. This is particularly true where that failure arises from the investigator's lack of knowledge, skills and expertise in the courtroom.
"The Criminal Trial also examines the range of roles in courts, including the judge and magistrates, prosecutors, solicitors, barristers and the jury. I also examine the courtroom environment, and the protocols and procedures that determine the presentation of the prosecution and defence cases," Mr Mills said.
"I note that throughout the book I have, for the most part, cited the law as it relates to NSW. However, there are many similarities with other jurisdictions in Australia."
The Criminal Trial – Courtroom Practices, Policies and Procedures
is published by
The Federation Press
.