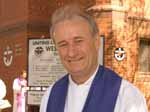 A leading Australian theologian at Charles Sturt University (CSU) will chair an international theological network from Tuesday 1 July and steer the organisation for the next three years.
Director of CSU's Australian Centre for Christianity and Culture (ACCC), the Reverend Professor James Haire, AM, takes over from South Africa's Professor Nico Koopman as chair of the Global Network for Public Theology (GNPT) which now has an office in Canberra, ACT.
Founded in 2007, GNPT is an academic research partnership formed to promote theological contributions on global public issues, especially those that affect the poor, the marginalised and the environment. It is comprised of 24 research centres and research programs in universities, colleges and seminaries from around the world.
CSU Vice-Chancellor and President, Professor Ian Goulter, said Professor Haire's appointment recognises his international personal reputation as a leading theology scholar and promoter of interfaith dialogue, as well as the standing of the University's School of Theology.
"Professor Haire and the University's School of Theology, based at our Canberra Campus, are making a positive contribution to the fabric of Australia's culturally diverse population and to a rapidly changing world," Professor Goulter said.
Reverend Professor Haire said this is a significant development for CSU.
"To have the chair of the GNPT for the next three years demonstrates that we are engaged with leading international centres of theological enquiry, including Princeton (United States), Edinburgh (United Kingdom), Manchester (United Kingdom), and Stellenbosch (South Africa) universities."
The GNPT fosters collaborative interdisciplinary and action research on theology and public issues. It does not seek to be a representative membership organisation for all research institutions, scholars and practitioners in the wider field of public theology.