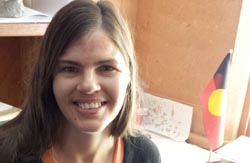 A Wiradjuri woman and Charles Sturt University (CSU) academic has won a NAIDOC award for her teaching and research that benefits the Wiradjuri and wider Aboriginal community in Australia.
Ms Leonie McIntosh, who is also a lecturer and student researcher with CSU's School of Education, was named scholar of the year at the annual NAIDOC awards for Albury-Wodonga on Sunday 13 July.
The award recognises five years of teaching, as a primary school teacher in Albury and particularly in educating future teachers in visual arts and Aboriginal perspectives at CSU.
"I am a strong believer in promoting the assets and opportunities presented by the Wiradjuri community, especially in our kids, and this award celebrates the positives that we see every day," Ms McIntosh said.
As an example of her commitment to her people, Ms McIntosh is currently in the second year of her PhD research investigating why Aboriginal children tend to fail in their learning when they enter primary school.
Ms McIntosh believes that, through her own experiences, many mainstream Australian schools are currently not structured to assist Aboriginal children to cope with their transition to 'big' school, even though many started school as competent readers and writers.
However, in her research Ms McIntosh will use theories borrowed from health research, which is based on strengths and positive thinking.
"I believe that Aboriginal children bring various personal skills to school – dance, art, community and family awareness, as well as reading and writing," Ms McIntosh said.
"To see how these skills are used in school, I will follow the progress of a group of Aboriginal children from their pre-school, which openly encourages their Aboriginality, as they enter kindergarten in two public primary schools, all in Albury.
"I can then analyse their early academic results at school and observe the transition process as it occurs."
Her project, titled 'Gaagu-ma-rra Gurray: Aboriginal children, families and communities starting school', is due to finish in 2017. The Wiradjuri language in the title means 'Embrace Change'.