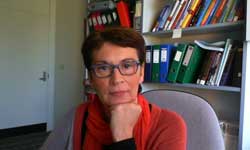 New immigrants are filling important needs in regional Australia, bringing skills, innovation and vital labour to the agriculture sector, according to new research.
In research funded by Rural Industries Research and Development Corporation (RIRDC) and titled "New Immigrants Improving Productivity in Australian Agriculture", Dr Branka Krivokapic-Skoko from Charles Sturt University (CSU) and Professor Jock Collins from the University of Technology, Sydney, outlined the roles of recent immigrant settlers and temporary visitors in re-energising the regional and rural towns across the nation.
"Immigrants are of increasing importance to Australian agriculture, and the new pathways recently opened to permanent and temporary immigrants has generally succeeded in getting them into regional and rural Australia," said Dr Krivokapic-Skoko, who is with CSU's Faculty of Business and Institute for Land, Water and Society.
"We have skilled permanent immigrants filling many vacancies for skilled jobs, bringing lots of expertise from their former home countries.
"Likewise, immigrant farmers are increasing in numbers and significance, adding to agricultural productivity as they bring new insights. For example, Asian market farmers bring a range of new vegetables and fruits as markets grow for them, and African farmers can introduce new and tried ideas on water conservation," she said.
Temporary workers, such as Working Holiday Makers and Pacific Islands Seasonal Workers, also provide an important workforce, particularly during harvest times around Australia.
"However, some recent well-publicised instances of low pay and unsatisfactory work experiences for both groups threaten to undermine the future of these programs," Dr Krivokapic-Skoko said.
In addition, while many refugees and humanitarian immigrants have settled in Australian cities, a number have moved to regional areas becoming farmers and agricultural entrepreneurs adding considerably to the agricultural sector workforce.
The researchers believe that nation-wide policies should consider:
Better targeted migration to regional and rural areas with shortages in skills and employment;

Providing incentives for new immigrants to move to regional areas;

Increasing the number of Working Holiday Makers coming to Australia;

Better promoting the Pacific Islands Seasonal Workers program;

Increasing resettlement of refugees in regional Australia; and,

Enhancing local incentives to welcome new immigrants to cities and towns.
"Immigrants have so much to offer regional and rural Australia, economically, socially and practically. We need policies to address the growing needs of regional Australia at a time of major economic and social change," Dr Krivokapic-Skoko concluded.