A new ballot should be called if there's any doubt over the result of the election of Senators in Western Australia, according to Charles Sturt University (CSU) political scientist Associate Professor Dominic O'Sullivan.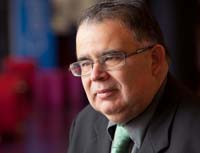 The Australian Electoral Commission (AEC) will officially declare the result of the closely contested WA poll, despite confirmation that more than 1,300 ballot papers have been lost.
Professor O'Sullivan, from CSU's
School of Humanities and Social Sciences
, said if the AEC believes the lost votes would have affected the outcome, then it should petition the High Court for a new election.
"The re-count of votes in WA means that the Greens candidate Scott Ludlam and Australian Sports Party candidate Wayne Dropulich have picked up seats over Labor's Louise Pratt and the Palmer United Party's Zhenya Dio Wang," he said.
"If the Australian Electoral Commission has made a mistake that has changed the result then it should bear the cost of any legal challenge.
"The idea of someone sitting in the Senate without a mandate from the people undermines voter confidence."
The AEC has asked former Australian Federal Police commissioner Mr Mick Keelty AO APM, to investigate the missing ballots
Professor O'Sullivan has welcomed that investigation but is also calling for a wider review of the vote counting system.
"There shouldn't be any excuse for missing ballot papers and questions about the security measures surrounding the count need to be answered," he said.
Professor O'Sullivan said the feasibility of electronic voting also needs to be considered.