Government assistance to prop-up Australian car manufacturing is a waste of taxpayers' money according to Charles Sturt University (CSU) researcher
Professor Kishor Sharma
who said funding should instead be targeted at supporting workers who will lose their jobs.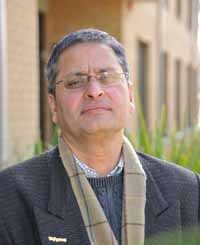 Professor Sharma
from CSU's
School of Accounting and Finance
said the closure of Ford Australia's manufacturing plants in 2016 should not be a catalyst for more industry assistance.
"The only way to make the Australian manufacturing sector viable is through reforms in the labour market and infrastructure sector to reduce cost of production," he said.
Professor Sharma said Ford's decision was not surprising and he's expecting that other car manufacturers will soon follow suit.
He argues that while cars may be assembled in Australia most of the parts and components are manufactured overseas.
"The Australian automotive industry is well-integrated into global production networks, said Professor Sharma. "The foreign value-added share in the industry's production and exports has increased from about 45 per cent in 1990 to about 80 per cent by 2011. This implies that the contribution of foreign inputs in every dollar's worth of the industry's exports has reached about 80 cents."
Professor Sharma said car manufacturers are owned by multi-national companies with the capacity to produce parts in countries like Thailand and Vietnam where wages are up to 70 per cent cheaper than those in Australia.
"As costs of transport and communication continue to fall, there's a strong incentive to produce parts and components off-shore for final assembly in Australia," he said. "Despite this, Australian manufacturers are facing higher costs in the absence of reforms in the labour market and infrastructure sector."
The lacklustre productivity and export performance of the Australian car industry in the past decade must also be considered, Professor Sharma said.
"The flow-on effects of the automotive industry on the Australian economy are much less than expected and this raises questions for the ongoing industry assistance, including research and development support," he said.
"It's no longer necessary to produce cars in Australia and propping-up the industry is not an effective way of using taxpayers' money. Structural change needs to take place and assistance should be focused on training and development to support the workers who will loose their jobs."