A project that assists NSW communities to protect their local natural environment and to live more sustainably in their own way will be officially launched at Charles Sturt University (CSU) in Albury-Wodonga on Monday 18 August as part of National Science Week.
Regional Manager for NSW Office of Environment and Heritage (OEH), Mr Graeme Enders, will launch the Our Place program from 10.30am. Participants will discuss seven existing local initiatives in Albury, Deniliquin and Holbrook as part of the program during the afternoon, which has been run by CSU's Institute for Land, Water and Society for the past year.
"The vision for Our Place is to strengthen communities by working with them to protect the natural environment and our shared cultural heritage," Mr Enders said.
"OEH is partnering with regional organisations to co-design environmental initiatives that are agile, innovative and self-sustaining, to address locally identified environmental concerns."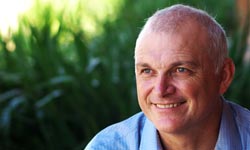 During the launch, project team leader Dr John Rafferty will be joined by collaborators Dr Helen Masterman-Smith, Dr Shelby Gull Laird and Dr Jillian Dunphy to present the results of community consultations already carried out in the southern NSW towns, followed by a showcase of the projects' achievements to date.
"Initial data analysis indicated that rural people hold unique and valuable insights into the 'sustainability' needs of their communities. Coupled with a wealth of knowledge and experience, rural communities know what their future looks like, as long as they have the resources to do it," Dr Masterman-Smith said.
"These communities already know about their main environmental concerns, they just need the resources, support and time to deal with them."
The Riverina Our Place program is one of a number of regional initiatives run by OEH.
"The program has already been run in Greater Western Sydney and the Hunter. Our group extended, enhanced and refined it for the Riverina. And it is soon to be established in the Illawarra," Dr Rafferty said.
"We have adapted the project for regional Australians. This innovative project is based on relevant research that enables local communities to respond to their own priorities for protecting local environments and their sustainability."
The launch event will run from 10.30 am to 3.30 pm on Monday 18 August at CSU in Albury-Wodonga, off Elizabeth Mitchell Drive, Thurgoona Road about other National Science Week activities in CSU News.