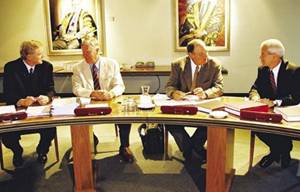 In an era before Vice-Chancellors were encouraged to think corporately, Charles Sturt University (CSU) had established itself through a series of mergers as the lead national University in regional Australia. It took almost 20 years to secure the future of tertiary education in the Central West and South Western NSW.
Wagga Agricultural College, Goulburn College of Advanced Education, Riverina-Murray Institute of Higher Education and Mitchell College of Advanced Education all combined to eventually form CSU. More recently, the merger of the Orange Campus once again demonstrated the capacity and willingness of CSU to take responsibility for ensuring inland regional communities have access to a world class University.
When the then Federal Education Minister, Brendan Nelson, said "what is done about higher education will determine what Australia will be like 20 to 30 years from now. It's about our future," the founders of CSU could well have said about regional Australia. What was done in 1989 has determined what regional Australia is like now, and still determines regional Australia's future.
That future was further secured recently when the CSU Council re-appointed Vice-Chancellor Professor Ian Goulter, Chancellor Lawrie Willett AO and Deputy Chancellor Ian Macintosh AM. It is this team that recently unveiled CSU's new five-year corporate strategy that Professor Goulter says will "focus on what we do well; deliver distinctive and quality educational programs for the professions, concentrate on our research on agricultural and regional sustainability, and lead the nation in distance education.
"CSU has chosen to play to its strengths. We graduate teachers, scientists, pharmacists, nurses, vets, accountants and journalists who are committed to contributing to our regional communities. The critical shortage of health professionals in rural and regional areas is being directly addressed by not only our Health Sciences courses, but our partnerships with organisations like the Greater Area Health Services and our commitment to the flexible delivery of education," says Professor Goulter.
"As a University our heritage is founded on agricultural, environmental and rural social development. The Institute for Land, Water and Society, the Centre for Rural Social Research, the E H Graham Centre, and the Centre for Applied Philosophy and Public Ethics all enhance our lives, not only in regional Australia, but for all Australians, as well as internationally.
"The universities that are based in the state capitals do not have that inner ear tuned to the needs of our regional heartland. With a demographic that is centred in our coastal cities the important role and function of inland regional Australia is so often missed - and it is critical to Australia's future, our sustainability as a nation and our cultural heritage and development," Professor Goulter said.
CSU Chancellor Lawrie Willett, AO, agrees. "The University benefits greatly from our campus locations in inland regional Australia, and the regions of course benefit from having us." The Deputy Chancellor Ian Macintosh adds "there's an enormous need for Australia generally (because we are so dominated by people who live within sight of the sea) to understand the importance of inland regional Australia."
"These are exciting times, and it is vitally important we stress to the metropolitan city and Government the importance of inland regional areas," Vice-Chancellor Professor Goulter said.