Psychology students from Charles Sturt University (CSU) are preparing for a trip of a lifetime as they head to Macau in early November to take part in a program that aims to create globally-aware students.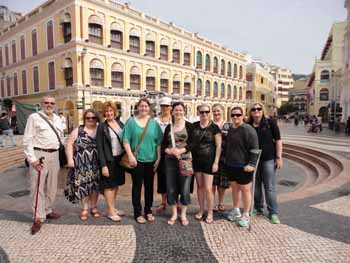 In a first for CSU, nine students including two students from the Wagga Wagga Campus and seven distance education students, will buddy-up with psychology students from the University of Macau to gain an appreciation of how psychology is applied in the special administrative region of China.
The CSU students will be accompanied by Associate Professor Graham Tyson from the University's
School of Psychology
.
"Our students will visit a number of institutions such as a psychiatric hospital as well as a gambling counseling centre," Professor Tyson said.
"In the process our students will learn about another culture and how the social-cultural context influences behaviour.
"It's a diverse student group going to Macau, ranging in age and involving students from first year through to Honours'. They are all female and almost all of those going are distance education students.
"This is an amazing opportunity for our students to interact on a global level and to see first-hand how another country deals with some pretty fundamental issues such as mental health, gambling addictions and drug rehabilitation.
"The program is all about extending psychology onto the international stage and we will be able to develop links connecting us all to the global village."
Macau is a Special Administrative Region (SAR) of the People's Republic of China with separate visa and entry administration to that of mainland China. It is widely viewed as the gaming capital of Asia and the social-economic and mental health issues surrounding gambling will be explored in detail by the students.
The group leaves Sydney on Saturday 3 November and will return to Australia on Sunday 18 November.
The students have received financial assistance from
CSU Global
, through a $500 Vice-Chancellor Travel Grant. CSU Global is an initiative to increase the number of students undertaking international experiences as part of their studies.