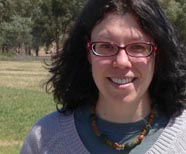 A world where emails, online chatrooms and virtual environments are a part of daily life, and where public communication is increasingly dominated by machines, is now ready to be taken back by humans, says a social researcher from Charles Sturt University (CSU).
"Personal computers have revolutionised and altered how individuals and organisations interact, communicate and work, and it is now time we looked at 'why' and 'for what purpose' we have created these environments that take up so much of our time and energy," said Dr Angela Ragusa, who has edited the recently published book, Interaction in Communication Technologies and Virtual Learning Environments: Human Factors.
The book looks at how we communicate and interact in a computerised, connected and inter-connected world, using social and cross-cultural experiences faced by 'virtual', online ommunicators worldwide.
"It also provides possible solutions for solving 'virtual miscommunications' and presents strategies professionals have implemented to effectively manage a range of communication issues such as 'lurking', surveillance, terrorism, teaching concrete skills, as well as other courses virtually, and gives examples of positive projects linking developing and developed countries," Dr Ragusa said.
"Contributions from international experts in Europe, North America and the South Pacific offer readers the benefit of academic experiences delivering flexible distance education and examine the use of technologies and e-learning materials in traditional face-to-face classrooms."
"By prioritising exploration of socio-cultural norms, values, beliefs and attitudes, this book elevates the social, 'human' factors in online communications as the most important issues that should be considered by computer system developers, managers and users when they develop new systems."
Interaction in Communication Technologies and Virtual Learning Environments: Human Factors, published by
IGI Global, is a reference for academics, researchers, managers and developers faced with the complexity of 'human factors' in online communications.