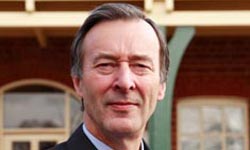 A slowing Chinese economy is a major reason for the record low cash interest rate announced today, says a leading Charles Sturt University (CSU) economist.
"The Reserve Bank of Australia (RBA) has done what the market expected and lowered the cash rate to 1.5 per cent," said Professor John Hicks, who is a leading economist and China trade expert with CSU's Faculty of Business, Justice and Behavioural Sciences.
"The primary reason appears to be the moderating of economic growth in Australia's major export market, China."
Professor Hicks believes a further slowing in China's growth is likely to result in further reductions in business investment spending in Australia, which has been in decline for some time.
"Lower interest rates in Australia may help stem this decline" Professor Hicks said.
"And as inflation rates are already quite low in Australia, the RBA does not expect inflationary pressure to increase with lower interest rates at this time.
"However, the RBA is concerned that a rising exchange rate, where the value of the Australian dollar rises against other major currencies, could interrupt the current structural change in the economy. This change is the move away from an extreme reliance on mineral exports towards an expansion in manufacturing and services," he said.
"A lower cash rate is seen by the RBA as a way of offsetting, although not eliminating, the possibility of further rises in the exchange rate."
Locally, Professor Hicks noted the RBA is not concerned that the lower cash rate will result in increased pressure in the Australian housing industry, as supply is already rapidly rising to meet buyer demand.
"Increased supervision by the RBA has improved lending practices in the housing market and the lenders themselves have become more cautious in lending more money to home buyers," he said."Overall, the RBA expects the reduction to assist Australia's economic growth, and may see the annual inflation rate rise back to their target rate of between two and three per cent."