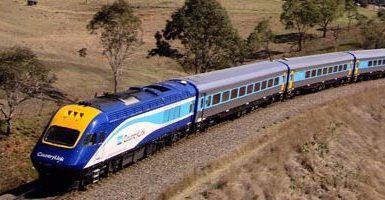 Two social researchers at Charles Sturt University (CSU) warn that the possible impacts of replacing NSW regional train services with coaches is likely to have negative social consequences.
In a paper published in the Journal ofSocial Inclusion, adjunct Associate Professor Ian Gray and Dr Merrilyn Crichton from the CSU Institute for Land, Water and Society (ILWS), said, "Significant change, if not drastic reduction in train services, appears to be on the NSW government's agenda.
"In 2012 Infrastructure NSW stated that the XPT trains would have to be replaced and coaches should be considered. The NSW Transport Master Plan says that the trains can only be kept operating until next year, and it takes years to obtain replacements," Professor Gray said.
The researchers conclude that there would likely be many people who, due to age, health or disability, depend on the facilities provided by trains.
"The evidence we have suggests that trains are important; some people may stop travelling altogether when train services cease," they said.
"The existing regional train services, which are slow and outdated in comparison to some of those of Victoria and Queensland, enable many people to maintain their social contact. This is especially so for people who do not fit easily into either the disabled or able categories; they are people who find it difficult to travel in coaches, struggle with long car journeys, and may depend on other people to drive them."
Professor Gray and Dr Crichton note that while passenger numbers have risen in recent years, the number of people using NSW regional trains is lower than the levels of 20 years ago, arguably due to deterioration in service levels.
"The XPT train timetables have suited the needs of the trains more than the needs of the people," they said.
"It is important to appreciate that the value of train services is greater than the number of current passengers. People who need the service would likely value it more highly than people who have easy alternatives to choose from. Research has shown that social isolation and thereby exclusion can be exacerbated by available transport options.
"Research conducted in the 1990s cannot be taken to give reliable indications of the likely effects on people's lives of reducing train services. What occurred in the past involved replacement of old, uncomfortable and unreliable trains with modern coaches. Today's trains are not the most modern, but they are comfortable and generally more reliable.
"In 2012 during a government review of services, the Physical Disability Council of New South Wales called for 'no further replacement of CountryLink (now NSW TrainLink) trains with coaches'.
"Our research explains why people would have such concerns. We suspect that there could be a hidden population of people whose lives would be badly affected by cuts to train services," they said.