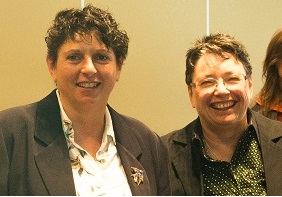 Two Charles Sturt University (CSU) researchers have shared in the State-level award which recognises contributions to building local community resilience.
Senior lecturer in emergency management in the CSU Australian Graduate School of Policing and Security (AGSPS) Dr Val Ingham (pictured, left) and Dr Sarah Redshaw (pictured, right), an adjunct researcher with the CSU Institute for Land Water and Society (ILWS), are members of the Blue Mountains Resilience and Preparedness Working Group, which won the 2015 Resilient Australia Community Award for NSW.
The Blue Mountains Resilience and Preparedness Working Group was formed following the bushfires in October 2013 that saw the loss of 193 homes and damage to 100 more.
Dr Ingham said as a result of these fires a range of community sector, government and emergency services personnel formed the 'Blue Mountains Resilience and Preparedness Working Group'. This group strengthened relationships between emergency services and the community sector, and provided a platform for the delivery of a broad range of resilience and preparedness programs.
The CSU researchers were invited to join the Working Group as a result of their previous research, 'Community Connections: Vulnerability and resilience in the Blue Mountains'.
"We found that it is relatively easy to inform and develop household attitudes and understanding about preparedness activities, but it is much more difficult to see this translate into action," Dr Ingham said.
Dr Redshaw said, "Many people we spoke with said they had prepared themselves to leave the Mountains, and many said they'd prepared their properties, but few were aware of what to do if they were 'caught' and unable to leave early."
The 2015 NSW Resilient Australia Community Award was presented to representatives of the Blue Mountains Resilience and Preparedness Working Group at NSW Parliament House on Tuesday 13 October. The Working Group is now in the running for the national award.