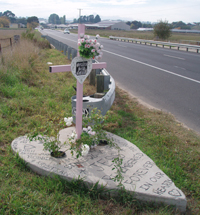 A Charles Sturt University (CSU) social work researcher who is exploring the meaning and role that roadside memorials play in the grieving process seeks interviews with people associated with these memorials.
Ms Susan Welsh, a PhD candidate in the
School of Humanities and Social Sciences
at CSU in Wagga Wagga, says the placing of roadside memorials has a long history, yet it has become a growing phenomenon in recent times, and has sparked heated debate and controversy.
"New laws have been established in various local government areas, ranging from total bans, to time limits being imposed, to allowing generic structures only. This has caused many bereaved people considerable anxiety, adding to their grief and anger," Ms Welsh said.
"It is important to understand why these memorials are important, how they help, and whether this phenomenon signals a move away from church or state run cemeteries to the roadsides as a place of significance.
"This research will lead to possible recommendations and implications for contemporary social work practice, government policymakers, other health and welfare professionals, and government departments such as the NSW Roads and Maritime Services."
Ms Welsh lives on the NSW south coast and in order to establish the role roadside memorials play in the bereavement process and how they assist the bereaved family and friends, she aims to conduct confidential semi-structured open-ended face-to-face interviews of between one to two hours duration with 10 to 20 participants who have placed roadside memorials. She will be researching memorials placed within the Shoalhaven Local Government Area – Berry to Durras, to Kangaroo Valley. If more potential participants from outside this area come forward, interviews can be conducted by phone.
She will also explore whether the actual site of the memorials has central spiritual significance. Analysis of some memorials will also be undertaken, including examination of their physical characteristics including their location, the icons and wording used, and the length of time they have been in place.
Ms Welsh stresses that although these research interviews are not intended as therapeutic or counselling sessions, some may find that sharing their grief and story may be a cathartic or healing experience.
"I hope that some participants at least will be comforted by the knowledge that they may be helping others who are facing similar grief, and that through this research they might contribute to possible policies regarding the placement of roadside memorials. All participants will be provided with counselling contact details if they need to seek further help," she said.
This research has CSU ethics approval to ensure privacy and confidentiality. No identifying data will be released and participants will not be linked to their own roadside memorial, unless they wish to be. Participants will also be bound by confidentiality agreements.
Contact Ms Welsh by email
swelsh@csu.edu.au
to find out more about participating in this research.