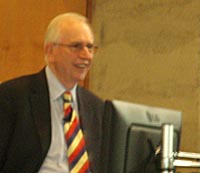 In the first of its
Exploration
public lectures, Charles Sturt University (CSU) invited social commentator and psychologist Mr Hugh Mackay to speak on what makes a life worth living.
With excerpts from his latest book, The Good Life, Mr Mackay explains that the good life is defined by our capacity for selflessness, the quality of our relationships and our willingness to connect with others in a useful way. He spoke at CSU in Albury-Wodonga on Wednesday 8 May.
Listen to Hugh Mackay on his new book, The Good Life, in the audio file below (47 minutes).