A small patch of dirt at Charles Sturt University (CSU) in Wagga Wagga that's designed to teach students about growing organic food is also home to state-of-the-art renewable energy production.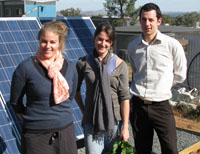 The student eco-gardens have been developed over the past year with the help of a $7000 sustainability grant from
CSU Green
.
CSU Green Acting Manager Mr Edward Maher said it ties in well with many of the University's key objectives for sustainability.
"It provides a demonstration site for self sufficiency including organic gardening, energy and water efficiency and responsible waste management," he said. "Perhaps even more importantly, it provides students with their own space to be outdoors, get their hands dirty, build friendships and start a conversation about how they may contribute to the sustainability challenge in their own way."
The eco-gardens are also home to a hybrid energy generation system built in partnership and with generous support from D&M Electrical Communications in Wagga Wagga and Great Southern Electrical of Bomen.
The companies are using CSU as a demonstration site for the $25,000 hybrid system, featuring a wind turbine with a generation capacity of 3 kilowatts and north facing photovoltaic (or solar) panels with an output of 1.5 kilowatts.
The electricity generated provides power for a pump for the irrigation system which makes use of rain water collected off a shed as well as other general power requirements at the site. The garden features three raised beds.
Student co-ordinator Ms Gemma Hawkins says the focus is on producing food in a way that doesn't damage the environment.
"The volunteer students are intrigued by the process of growing food organically and the difference in taste," she said. "Green bins are used to collect food waste from the nearby student residences, which then goes into an organic composting system with sawdust and horse manure from the stables. This is used to feed our plants and improve the soil."
Aside from the gardening activities, the aim is to use the space for workshops, club meetings and social events, where people can learn about sustainable issues and solutions.
"My interest in this project comes from valuing the environment and I believe the current industrial process of food production can be quite damaging, so producing something on a small scale such as in this organic garden really interests me," she said.