* Students from three Border high schools are concerned that more needs to be done in Albury and Wodonga cities to sustainably use the region's limited water resources, particularly in new residential areas.
* Students from Albury High will present these concerns to the Albury and Wodonga city mayors at 11.30am on Tuesday 4 December at Gateway Island, Wodonga.
* Students' concerns arise from their investigation of greywater recycling systems developed over 20 years at CSU in Albury-Wodonga.
Students from three Border high schools have taken their concerns on water conservation in Albury and Wodonga to the cities' mayors after their recent studies into water quality at Charles Sturt University (CSU).
As part of their Year 9 science courses, students from Albury, James Fallon and Murray high schools studied the water in the man-made wetlands on the University's Thurgoona site that hails from kitchens, showers and stormwater drainage across the campus over the past year.
The students carried out rigorous scientific analysis and independently evaluated the success of the sustainable practices that make most use of limited water resources on the Thurgoona site.
"We observed how the capture of grey water from showers could be redirected through natural filtration systems to then be available for other purposes," the students said.
A student delegation from Albury High School will present their findings to the city mayors on Tuesday 4 December. They will also express concerns with the continued disposal of greywater from kitchens and driveways from new homes into waterways without being cleaned up and re-used on the Border.
"Grey water from small community clusters could be redirected into smaller catchment areas or ponds which double as natural ecological areas for water birds and flora to treat the water prior to it being made available for secondary use on gardens and in toilet systems for flushing," said the students said in their submission to the mayors.
"Treating grey water in filtration ponds would reduce dependency on potable water supply for non-potable uses, while simultaneously ensuring that discarded water is applied to further use before being returned to the water table or secondary filtration."
The science students undertook field investigations of the sustainable water practices at CSU in Albury Wodonga at Thurgoona to help develop their statement to council.
"Our region depends on having available water for a range of activities including domestic purposes, maintaining a natural environment, recreation and lifestyle and for agricultural and food production purposes."
Over the past three years, CSU has sponsored a literacy enhancement initiative with these schools, working with the same group of students that entered high school and began looking at their own place in our community and the wider world as responsible and interested local citizens.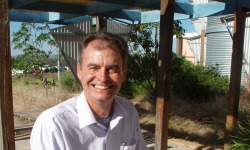 "We wanted to focus their literacy skills on persuasive initiatives that are important for their future and the future of our regional communities," said project coordinator, Mr Paul Grover with the CSU School of Education, based in Albury.
"Sustainable environments are essential for the future wellbeing of growing regions such as Albury-Wodonga. Local initiatives can spread the word Australia-wide, and young adults in our local high schools are definitely the people looking at the future for themselves and the community they live in.
"We are seeking to persuade our communities to adopt more sustainable environmental practices in housing developments, using the model of campus sustainable water recycling practices that have been developed at Charles Sturt University."