Better focused support for families with complex needs makes it much easier for children in the family to enjoy their early schooling, according to a research group that included educational researchers from Charles Sturt University (CSU).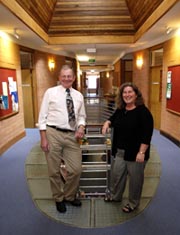 Professors Sue Dockett and Bob Perry and Ms Emma Kearney from CSU's
Murray School of Education
led a project based in regional and urban NSW that investigated how to help these families help their kids to enjoy going to school.
The researchers found that the transition to school is a time of opportunity and vulnerability for families with complex needs, with many challenges for parents, their children or the whole family.
"Children are more likely to make an effective transition from home to school when they have a positive approach to school and have a sense of belonging and engagement," Professor Dockett said.
"To do this, parents and families play a fundamental part in the transition process. They must feel that they belong in the school community."
Positive and well coordinated practices, processes and policies enacted by committed and trained professionals across schools and communities play a vital role in providing a positive experience for children moving into school life.
"For example, a family with access to clear information about the school that their child will attend, as well as opportunities to interact with staff at the school, can promote a successful school start. Families who can access appropriate support and build community connections are also well placed to make the most of the opportunities associated with their children starting school," Professor Dockett said.
Professors Dockett and Perry, who are leading researchers with the CSU
Research Institute for Professional Practice, Learning and Education
, will lead a seminar on their findings with senior professionals and policy makers on Tuesday 14 June in Sydney. They will outline the concerns, expectations and experiences of families as their children make the transition to school, and the supports that facilitate the transitions of children and families with complex support needs. They will also discuss implications for government policy and recommend future directions for assistance to families.
The project report will be officially launched at 2pm by the General Manager of Social Change with MTC Work Solutions, Ms Anne Hampshire, who was also a leading researcher on the project.
The research project, titled 'Facilitating children's transition to school within families with complex support needs', was a collaboration involving academics from CSU, the University of Western Sydney, Community Services in the NSW Department of Human Services, and Mission Australia. It was funded by the Australian government.