Using smart phone applications to order food from a local café, book a motel or to 'read' roadside posts for tourist information are all ways regional communities could lift their profile and visibility to give their economies a competitive edge.
A new research project at Charles Sturt University (CSU) will focus on Bland Shire in NSW and how this regional community, where half of its 6 000 residents live in the town of West Wyalong, can overcome barriers to using social media.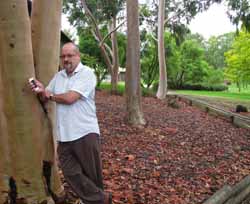 Funded by a scholarship from the University's Faculty of Business, a case study of Bland Shire will be conducted by
Bachelor of Information Technology (Honours)
student Mr Scott Breed supervised by Mr Ken Eustace, a lecturer with the
School of Computing and Mathematics
at CSU in Wagga Wagga.
"Charles Sturt University is one of several organisations supporting the use of social media and smart devices to lower the barriers to using this technology in the Bland Shire community. It will also raise the visibility and profile of the whole community including government, business, education tourism, and agriculture," Mr Eustace said.
The case study will include an audit of technology and social media to examine existing and future infrastructure and resources; investigate current technology education, skills and resources in the Bland Shire; undertake surveys on the current and proposed uses of social media and new technologies and barriers that inhibit the uptake of social media and new technologies; mentor and educate all sectors in the Bland Shire on the use of social media and new technologies; and develop affordable applications and digital audio platforms for the community, business and tourism in the Bland Shire.
"As I tweeted recently on social media sites, 'Smart regional communities use social media and smart phones to engage with each other now, so they are ready to take advantage of the National Broadband Network'," said Mr Eustace.
"One café in West Wyalong is already a champion of social media where employees of a local mine can pre-order their food by smart phone applications. The local council is already using Facebook to send ratepayer messages. Motel operators in an area where two major highways intersect can increase bookings by using social media.
"Bland Shire can also take advantage of new smart phone applications that 'read' or scan Quick Response or QR codes on a roadside to download tourist information," Mr Eustace suggested.
The project, Adoption of Social Media in a Rural Community is supported by Bland Shire Council, Business West Wyalong, CSU, TAFE NSW Riverina Institute, West Wyalong High School and ReConnect Communications.
"The findings of this project, being conducted to the end of 2013, could be easily replicated by other rural and regional communities. If this works for Bland Shire, then it will work for many regional communities."