If the thought of standing in front of the class in the weekly spelling bee still sends shivers down your spine, Charles Sturt University (CSU) research might offer some comfort.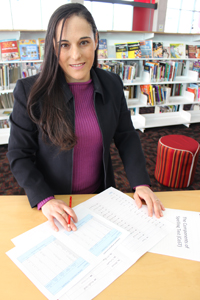 CSU PhD student Mrs Tessa Daffern is researching how children learn to spell so that educators can improve the ways in which this important skill is taught.
"A child who is poor at spelling often finds writing stressful and this can mean that they can't use writing to extend their learning across other disciplines. Spelling is also known to support the development of reading comprehension, particularly as children progress through the upper primary school years," said Mrs Daffern.
"It's also an important life-skill, for example spelling mistakes in a job application are often used to eliminate potential candidates."
Mrs Daffern's PhD, titled
An examination of spelling in the upper primary years of school,
through the CSU's
School of Education
in Albury Wodonga, is based on the learning experiences of primary school children from year three to year six.
The first stage of the research will involve empirically analysing The National Assessment Program – Literacy and Numeracy (NAPLAN) results of approximately 1,200 students across a number of randomly selected schools in the ACT.
"One of the aims is to examine how spelling, grammar and punctuation relate to written composition. We also know that girls out-perform boys in spelling achievement and this is something I'd like to explore," said Mrs Daffern.
"While there have been many studies about literacy in the earlier years of primary school there is a gap in our knowledge about spelling in the later years of primary school, particularly within an Australian context."
Mrs Daffern has also developed a new spelling assessment tool, titled The Components of SpellingTest (CoST), which is informed by Triple Word Form Theory.
This theory stems from several neuro-cognitive and behavioural studies providing converging evidence that proficiency in spelling involves learning to efficiently and automatically coordinate three word-forms: phonological (letter to sound correspondence) , orthographic (conventional letter sequences) and morphological processing (meaning and origin of word parts).
"The test has been pilot-tested on 200 ACT students across four schools, to ensure that it is a valid and reliable assessment tool for future use by teachers and researchers," she said.
The second phase of the project will feature in-depth case studies with 16 students and their teachers.
"I want to understand the spelling strategies that students use at each year level, when they engage in written composition. Specifically, I would like to gain a clearer picture of what high-achieving spellers and low-achieving spellers are thinking as they spell a word," said Mrs Daffern.
"I hope the findings of this research will inform the development of future testing schemes and curricula, as well as help to develop early intervention programs for low-achieving spellers, and provide an insight into the differences between the skill development of boys and girls."
For more information contact Mrs Tessa Daffern via
email
.