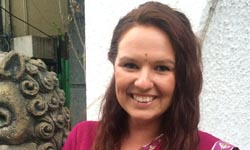 A Charles Sturt University (CSU) psychology student has gained wide recognition for her high academic achievement and personal dedication to her field of study.
Bachelor of Psychology (Honours) student Ms Caitlin Wilcox, from Albury, NSW, has been named the Pearson NSW Student of the Year Award in the social sciences and psychology category.
Following her recent return from volunteer work in rural India, Ms Wilcox said, "I really had no idea initially about how vast and complex the human mind could be."
She listed many specialities of psychology addressed in her CSU degree, from professional development in the industrial sector to analysing and researching psychopathologies in healthcare.
Ms Wilcox sees her own future as one aimed at improving ordinary Australians in rural communities.
"I found that there really isn't all that much support for those with more severe psychological disorders such as an eating disorder or schizophrenia. This often results in people having to travel vast distances to the city. This also splits families up when they need to be together most," she said.
As part of her award application. Ms Wilcox delivered a short video presentation [found here] on her studies to the expert judging panel.
Ms Wilcox said her ultimate goal is to open a rural clinic specialising in eating disorders.
In nominating Ms Wilcox for the award, academic Dr Rachel Hogg from CSU's School of Psychology described her award-winning student as a "disciplined, competent, organised, and receptive student."

"What makes Caitlin an outstanding student is her work ethic," said Dr Hogg.

"She has demonstrated a sound understanding of core psychology concepts and principles in studies, particularly with respect to advanced research methods and statistics, a challenge for many psychology students.
"I believe Caitlin will have a positive and powerful impact on the field of psychology and on the lives of those around her as her educational journey continues.
"Caitlin works very hard academically, but she also cares about human lives and connecting people with their own potential. Her sense of global citizenship in part inspired me to nominate her for this award."
Ms Wilcox will soon commence her Honours project, which she aims to complete in 2018.The Pearson Student of the Year Award is presented to Australian students who have demonstrated outstanding effort in seven fields of study, including social sciences and psychology.
Students must be nominated by an academic from their course and submit a short video presentation.