A Charles Sturt University (CSU) psychologist has developed a special understanding of the sound working relationships needed between elite riders and their horses competing at the Olympic Games.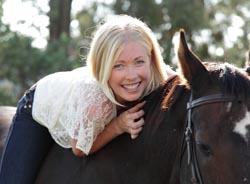 As a keen horse rider herself, and having completed research for her doctorate last year on relationships between elite riders and their horses, Dr Rachel Hogg from CSU's School of Psychology believes riders at the world class level develop close working relationships with their horses, rather than the more emotionally-oriented relationships that recreational riders form with their horses.
Dr Hogg contends that many elite riders care very deeply for their mounts, but interact with them in a very different context to a recreational rider.
"Top riders agreed they needed to develop a close understanding with their mounts, and share mutual goals and work orientation, in a strong working relationship," Dr Hogg said.
"These same riders might train up to 30 horses a week for competition, and so don't have the time needed to develop strong emotional bonds with all their mounts, though many riders do develop close emotional ties, particularly to their main competition horses.
"Elite equestrians typically become interested in their sport because of their love of horses, but the professional, commercialised world of elite equestrian sport can change the nature of horse-rider interaction.
"Horse-rider relationships at the elite level are goal-oriented, and emotional attachment to the horse can potentially jeopardise a rider's competitiveness. Many elite riders make their primary income from interacting with horses, and to maintain a long-term career in their chosen sport, riders may need to be pragmatic.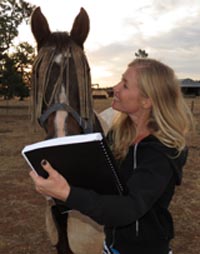 "My doctoral research showed that while strong horse-rider relationships could enhance sporting performance, they were not always necessary to succeed competitively."
Like many Australians, Dr Hogg will be watching keenly the success of Olympic and Paralympic riders and their horses in Rio de Janeiro in coming weeks.
"The eventing competition in Rio to date has shown me the obvious positive relationships between the leading pairs of rider and horse. Watching Australia's Christopher Burton, a wonderfully sympathetic rider, and his inexperienced horse, Santano II, ride a safe, clear, fast round in such beautiful harmony with each other was just fantastic. It represents the epitome of what can be achieved between horse and rider," Dr Hogg said.
"Riders like William Fox-Pitt and Mark Todd also provide a great examples of the intimate connection that can be formed between horse and rider, even when facing the pressure of an Olympic level competition.
"These riders are competitive but ethical and sympathetic in the way they compete their horses and they provide a wonderful example for amateur riders. We tend to think of harmony as something to watch for in the dressage competition, but our Australian eventing riders have demonstrated in Rio that this is very much a part of other equestrian sports like eventing."
Dr Hogg's insights have been developed in detailed analysis of interviews with 35 elite riders, including current and past Olympians as well as competitors in the Paralympics.
"Top riders were keenly aware of the inequality of rider-horse relations and the responsibility of the rider to control interactions between them and their mounts, which could influence their competitive success," she said.
"If a strong horse-rider relationship becomes adverse to sporting success, this raises questions about the ethical and political dimensions of equestrian sport. For some participants in my research, this was an issue that troubled them.
"We need to think carefully about how success in equestrianism is defined, and nowhere is this more important than at the elite level."
The challenges of the sport remain, however, with the cross-country course in Rio proving again the pressure placed on elite pairs and how dangerous the sport can be for both horse and rider.
"Every horse enthusiast in Australia can congratulate the eventing team on their medal, but what really matters is that we continue to develop the sport in a sustainable and ethical manner that prioritises the relationship between horse and rider," Dr Hogg said.