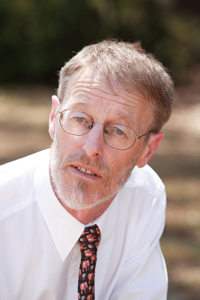 A senior Charles Sturt University (CSU) business researcher says the release of the Guide to the Murray Darling Basin (MDB) Plan marks the "start of a process by which we can put things right in the Basin".
The draft recommends an additional 3 000 to 4 000 gigalitres (GL) of water be available each year for the Basin's rivers. CSU Professor of Business, Kevin Parton reveals there are some startling truths in the Plan.
"The most significant truth is that there is uncertainty everywhere we look. Uncertainty about how much water is required to restore the ecological balance. Uncertainty about how much agricultural output will be reduced as water is diverted to the environment. Uncertainty about how resilient communities will be as they face the challenge of less water. On top of these, there is uncertainty about how the vagaries of our climate will influence and magnify all the other uncertainties."
Professor Parton is quick to point out that this uncertainty does not mean nothing is known about the problems.
"Previous research, backed up by the Guide, shows that reductions in agricultural output will be far less in proportionate terms than reductions in the amount of irrigation water. This is because water used in low farm productivity activities will be removed first and because there is scope for investment in more efficient forms of irrigation," he says.
"According to the Guide, if we return 3 000 GL/year, the projected cost to irrigated agriculture will be $805 million per year. This is about 13 percent of the gross value of irrigated production, which will reduce regional economies by 1.1 percent of gross regional product."
Professor Parton hails the plan that could provide significant ecological gains in key locations in the MDB as more water is released. "Nevertheless many wetlands are in a critical condition, and under treaty obligations the government must do more to re-establish them. While some ecological niches require periodic floods, other locations will respond to relatively small amounts of additional water. These considerations suggest it is appropriate that the plan take a whole-of-Basin perspective."
The professor is concerned at the social costs in some locations where the adjustment will be difficult.
"The MDB Authority appears concerned that the short-term social and economic impacts on some communities and regions could be severe without structural adjustment. We will need to engage with the members of these communities to develop a sustainable future that they support."
Professor Parton backs the need for more research to generate information and reduce the uncertainty in these areas.
"The world is looking at how Australia deals with the massive challenges of water re-allocation. As suggested in the document, we will need to strive for balance. This will be a process of vigorous debate between various interests. This is a normal process in a democracy for dealing with uncertainty."
Professor Kevin Parton is a leading researcher with CSU's Institute for Land, Water and Society, and is based in Orange in central NSW.