It's often said, "a picture tells a thousand words", and Charles Sturt University (CSU) research using digital photos has shed new light on the learning experiences of young refugees in regional Australia.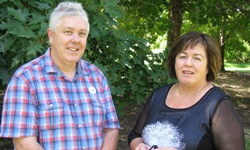 The project, funded through the UnitingCare NSW.ACT Innovative Community Grants Program, has examined how refugees aged between 16 and 25 use informal learning spaces, such as libraries, shopping malls, and church groups to gather and understand information.
Lead researcher, Dr Annemaree Lloyd, from CSU's School of Information Studies, said refugees who are re-settled in regional areas can find it challenging.
"In regional areas there's not as many services to help refugees settle into the community and it can be particularly difficult when people are isolated from others who speak their language. This can lead to issues about how people get the information they need to know to make the transition easier," said Dr Lloyd.
"The 16 to 25 year-olds have been identified as a group that can fall through the cracks of formal education.
"It was also an important group to study because young people are often much better at using new technology than their parents, which means parents are relying on them to find out and interpret important information."
The project used a photo-voice technique, where the young people were trained on how to use a camera then encouraged to take photos of a number of spaces they go to get information.
"We found out that informal learning happens in lots of different places. For example, people may go to faith-based groups not only to connect with their faith but to find out about employment," Dr Lloyd said.
The results of the project have been presented to service providers, and Dr Lloyd hopes it will help support learning in those places.
"The young people themselves were in control of the messages we took back to the service providers, which gave them some ownership of the project," she said.
UnitingCare Community Development Co-ordinator, Mr Neil Barber, said, "The messages about the value of the social and informal aspects of learning for these young people and the opportunity that faith groups, sport and arts groups provide for that engagement are informative."
The latest project is part of a wider body of research by Dr Lloyd into the information needs and literacy of African refugees in Wagga Wagga in southern NSW.
"The results of the research are transferable to other regional communities," said Dr Lloyd. "Refugees are often given lots of written text such as pamphlets or information on webpages, but if their literacy skills are poor then they are not able to access that information, or they have to rely on others to interpret it, which can be complicated.
"Things government and other service providers should consider include audio-visual material in people's own languages so that they can watch as well as listen. Workshops can also be an effective way of communicating information."
Dr Lloyd is now seeking funding for further studies into the information experience of refugees who resettle in regional and rural Australia.