* CSU announces $100,000 research commitment into regional labour market challenges.
* Research builds on previous study in the Murray region.
* CSU seeking government and industry research partnerships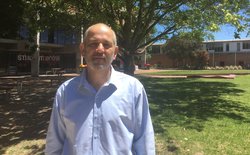 Charles Sturt University (CSU) announced today a $100,000 research commitment to assist in addressing labour market challenges in rural and regional areas.
Speaking at the 2018 SEGRA Conference, CSU Professor Mark Morrison, Associate Dean, Research in Faculty of Business, Justice and Behavioural Sciences, said the funding will build upon initial research jointly led with CSU Professor of Economics John Hicks, School of Accounting and Finance, and Associate Professor Tom Murphy from the Western Research Institute.
That research, the Murray Region Economic Development Study, undertaken in conjunction with NSW government and Regional Development Australia, found that employers are struggling to source employees as well as struggling to access local entrepreneurial leadership.
Professor Morrison said the study showed the lack of skilled and unskilled workers to fill regional jobs was one of the biggest constraints to regional development and a lack of managerial skills in the regions and rural areas were limiting growth.
"We found regional employers have jobs available but that finding people to fill them is a huge challenge.
"Building on the research we completed in the Murray region, we will be working to identify where and what the skills shortages are, and work with local governments, education providers and schools to understand the drivers and mechanisms to create regions with a supply of potential employees."
In outlining the new research Professor Morrison said the program was expected to take 18 months and would include a skills audit to identify strengths and gaps in the region.
"By talking to high school students about the jobs that are available in the regions we can encourage them to think about the future and staying in the region rather than leaving for the big cities.
We also want to use the program to set up the links and processes between university and TAFE to inform recognition of critical skills gaps and needed programs," Professor Morrison said.
Professor Morrison said communicating jobs available in the region through regionally-specific jobs platforms was an important step in challenging the perception that people need to move to metropolitan cities and to stem the flow of skills away from regional communities.
Professor Morrison said CSU will be seeking research partners to participate in this work.