* CSU fish ecologist Dr Lee Baumgartner appointed to Federal scientific fish death panel
* Panel was called after fish deaths in the Darling River near Menindee
* Panel's interim report into fish deaths due by Wednesday 20 February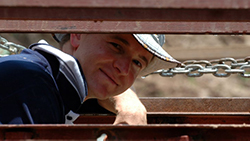 Charles Sturt University's (CSU) Dr Lee Baumgartner has been appointed to the scientific panel advising the Federal Minister for Agriculture and Water Resources, The Hon. David Littleproud on the fish deaths in the Darling River over summer.
Dr Baumgartner is a leading fresh water fish ecologist with the CSU Institute for Land, Water and Society.
Further information is available on the announcement, the panel and its terms of reference.