* For the second year running, three social work academics from CSU have received the top national award for social work educators from their peers.
* CSU has an outstanding reputation for producing job-ready social workers.
* CSU social work rates 'five stars' for full-time employment and median salary for new graduates.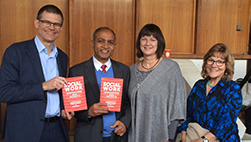 Three Charles Sturt University (CSU) social work academics have received the highest recognition from their peers when they were named 'Social Work Educator of the Year' at the 2018 Australia and NZ Social Work and Welfare Education and Research symposium in September this year.
The award was won by Professor Manohar Pawar, Professor Wendy Bowles and Associate Professor Karen Bell (all pictured left with CSU Vice-Chancellor Professor Andrew Vann) for a book that compiled presentations and issues covered at a 2017 symposium celebrating 25 years of social work education at CSU.
"This award acknowledges of all the educators, students, practitioners and community partners who have pioneered and developed our social work programs over the past 25 years," Professor Bowles said.
"Together, these people have created a widespread family that continues to make an important contribution to social work in Australia and overseas."
Associate Professor Bell also reflected on the historical context of the team's success.
"The symposium and book were very much a celebration of that sustained engagement in social work learning, teaching, practice and research," she said.
Professor Pawar said the milestone was particularly significant, given that the initial decision to deliver fully-accredited social work education via distance mode was against the trend at the time.
"That decision has since seen us reach out to thousands of students, many government and non-government organisations, and through them, people and communities across Australia," he said.
"The book Social work: Innovations and insights provides a glimpse of our colleagues' contributions to social work knowledge, skills, practice and research, while recognising the founders and patrons of CSU social work."
CSU social work course director, Mr Garth Norris, congratulated his colleagues, noting this was the second year in a row that members of the University's social work team were awarded this honour, with Dr Cate Thomas receiving the award in 2017.
"This recognition by our peers highlights the quality and reputation of our colleagues involved in social work teaching and research at CSU," Mr Norris said.
"As employment opportunities for social workers continue to grow it is vital to be providing a quality education and experience for our students, which gives them a head start in the sector."
The program's reputation was recently further enhanced in the 2019 edition of the Good Universities Guide, which gave CSU's social work degrees five-star ratings for 'full-time employment' and 'median salary'. This rates CSU rate in the top 20 per cent of Australian universities for these indicators.
In addition, CSU scored five stars in the 'Humanities and Social Sciences' category for salary and employment, as well as 'learner engagement'.
Enrolments for the next group of students in the CSU Bachelor of Social Work close in February 2019.