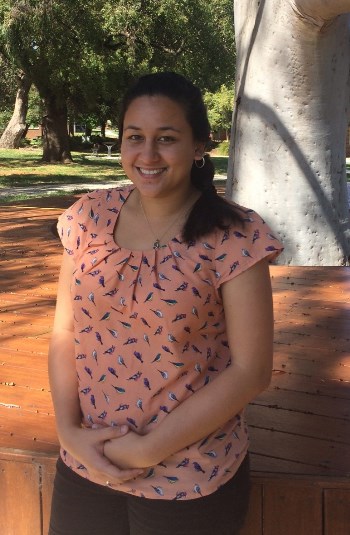 The first international student in the veterinary science program at Charles Sturt University (CSU) has passed the half-way mark with ambitious plans to return to Fiji on graduation to improve the health and welfare of small and large animals.
Ms Leilani David, from Fijian town of Nadi, last year completed the third year of the Bachelor of Veterinary Biology / Bachelor of Veterinary Science through the School of Animal and Veterinary Sciences at CSU in Wagga Wagga in regional Australia.
She was awarded a prestigious Australia Awards Scholarship from the Australian Government in 2013.
Ms David said, "When I graduate, I will return home to establish or work in a well-equipped, motivated veterinary science clinic.
"I want to provide affordable services for local communities and their animals, as well as help educate the community about animal welfare and basic animal care.
"While growing up, there was always a lack of awareness of such issues which often resulted in animal mistreatment and abandonment.
"I would also like to contribute to the livestock sector in Fiji and help improve the expanding large animal production sector from on-farm practices to processing while ensuring the enforcement of animal welfare legislation."
Ms David completed a Higher Education Diploma in Animal Health at Fiji National University.
"I always wanted to study veterinary science but there wasn't any opportunities in Fiji. Near the end of my course, a lecturer suggested I apply for an Australia Awards Scholarship.
"It's been the best thing that has happened to me. I am the first international student in the veterinary science program at Charles Sturt University and the only Fijian to receive an Australia Awards Scholarship to study veterinary science in 2013.
"One of the things about Charles Sturt University's program is that it is hands on and practical from the start with facilities like cattle and sheep yards, diagnostic laboratory, a small animal hospital and large animal theatre.
"I had nothing to do with large animals before coming to Charles Sturt University. I have learnt heaps from my work placements including at a merino stud in Victoria, a horse stud in the Hunter Valley in NSW, as well as dairy and beef in regional NSW
The CSU student ended 2015 with her first small animal clinical placement in Tasmania.
"There's a lot of support for students at Charles Sturt University. The introductory academic program I did when I first arrived before the start of my first academic session was extremely useful familiarising myself with the University's systems, academic referencing and even understanding about how to organise shared housing.
"Initially, it was a big transition for me to be away from my family and everything familiar.
"However, I feel that I have grown personally and am more independent and confident. It has pushed me out of my comfort zone. I wouldn't have gained this if I had stayed at home. It's been the best thing that has happened to me."
The veterinary science program at CSU is a six-year program. Read more about CSU here.
Read more about veterinary science in CSU News here.