A $1.3 million upgrade of equestrian facilities in the Riverina will be officially opened at Charles Sturt University (CSU) in Wagga Wagga at 10am on Friday 31 October.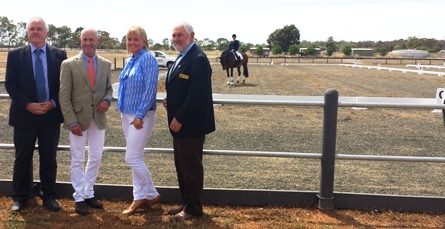 Equestrian Australia selector and CSU graduate Ms Olivia Skellern will open the new facilities with Professor Tim Wess, the Executive Director of the CSU Faculty of Science, and Mayor of the City of Wagga Wagga, Councillor Rod Kendall.
The Riverina Equestrian Centre Charles Sturt University is a 10-hectare site for multi-discipline equestrian competition, education, research and training.
CSU and Wagga Wagga City Council signed a Memorandum of Understanding in 2012 to develop and expand the existing equine precinct at the University.
The Centre features a new warm-up arena with dust suppression system, two new competition arenas, new covered day yards, road upgrades, new horse wash bay, improved spectator area, improved amenities and car parking.
Mr Hunter Doughty, from the School of Animal and Veterinary Sciences at CSU in Wagga Wagga, said, "This is a great community initiative and the first step towards a regional equestrian centre to facilitate the running of international standard equestrian competition across disciplines in the city.
"Already there is national interest in the venue and competitor numbers have skyrocketed. Future development of the facility will be the determining factor in just how much the region benefits from the initiative."
Mayor Kendall said, "This project is a great example of what can be achieved through collaboration with key stakeholders and is a significant investment in the future of equestrian events in the Riverina.
"The Centre provides Wagga Wagga with a first-class facility that will not only benefit Riverina Equestrian users but will also attract riders nationally and internationally to future events.
"We look forward to seeing some of the best riders and horses perform in our city."
Background:
The Riverina Equestrian Centre Charles Sturt University is a partnership project between Wagga Wagga City Council, CSU, and Riverina Equestrian Association.
Contributions include $955 810 from WWCC, $320 000 from CSU plus the land, existing Equine Centre infrastructure and the $500 000 upgrade of Agriculture Avenue, planning and in-kind support from the Riverina Equestrian Association (REA).
Events at the Riverina Equestrian Centre Charles Sturt University include Riverina Dressage Festival on Saturday 1 and 2 November, REA Show Jumping Festival, Wagga Horse Trials, and Riverina Reining.
- 60 metre x 25 metre Warm Up Arena with dust suppression system;
- 90 metre x 70 metre Competition Arena 1 with dust suppression with granulated rubber in the surface;
- 60 metre x 20 metre Competition Arena 2 (Dressage Arena) with dust suppression with granulated rubber in the surface;
- covered day yards to comfortably house horses during single day or overnight events;
- 3-horse wash bay;
- internal road upgrades suitable for all types of horse transportation;
- irrigated septic system to service new amenities block, new horse wash bay and an existing administration building. The system will irrigate on-site native trees;
- electrical works to future-proof the Centre for lighting and communications through the installations of service conduits;
- stormwater harvesting and storage for reuse in dust suppression for arenas, horse wash bay, amenities, toilets and various hose taps;
- stormwater diversion. Redirecting existing stormwater system and drainage from arenas to wetlands;
- amenities block with showers and toilets, plus office space and canteen.