When the purple flowers of Paterson's Curse begin to carpet paddocks this year some researchers at Charles Sturt University (CSU) will be paying particular attention.
A research project led by Dr Paul Weston, from the
EH Graham Centre for Agricultural Innovation
– an alliance of CSU and NSW Department of Primary Industries - is investigating the impact of climate change on this invasive weed and the insects used to control it.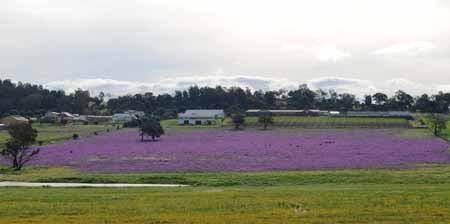 Paterson's Curse, also known as Salvation Jane or Riverina Bluebell, infests more than 30 million hectares of pasture in southern Australia.
The weed is toxic to grazing animals and is estimated to cost the Australian livestock industry more than $100 million each year.
This winter, researchers will carry out a comprehensive survey of where the three main insect biological control agents have been released in southern NSW, Victoria and South Australia.
"We'll be looking at the presence of the three beetle species and the density of the Paterson's Curse," Dr Weston said. "Plant and insect specimens will also be collected and brought back to the laboratory for further testing."
Dr Weston said greenhouse experiments planned for the future will help predict the impact of climate change on the weed and the effectiveness of the biological control agents.
"In experiments in controlled atmosphere greenhouses, we will elevate the carbon dioxide to levels that are expected to occur 50 or 100 years from now to see what impact this will have on the plants and the insects and the interaction between them."
Dr Weston hopes this will provide more information about how biological control agents will perform, if additional releases will be needed to maintain adequate weed control, or whether other agents would be better suited.
He said recent rainfall has provided ideal conditions for Paterson's Curse to germinate and it will be interesting to see how the biological control insects survived previous years of drought.
Other researchers contributing to the project include Dr Leslie Weston from the Graham Centre, Dr Mark Stevens from the NSW DPI and Dr Darren Kriticos from the CSIRO.
The project has received more than $100 000 from the National Weeds and Productivity Research Program through the Rural Industries Research and Development Corporation for the first year of the study. Further details of the Program are available
here
.