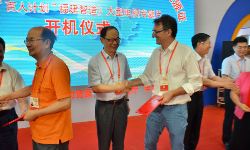 Agricultural pests in China and worldwide have received a further kick in the mandibles with a senior Charles Sturt University (CSU) researcher receiving a major Chinese Government award to investigate ecological solutions for agricultural pests.
Professor Geoff Gurr, with the Graham Centre for Agricultural Innovation, recently commenced a prestigious "Thousand Talents Fellowship" at Fujian Agriculture and Forestry University (FAFU) in southern China. Worth over $2 million, the fellowship aims to attract overseas talent to work in China.
"The award allows me to tackle questions and problems I have previously not investigated. These funds are not tied to specific projects so I can now tackle 'blue sky' ideas for which I would otherwise find difficult to get such substantial funding to pursue," he said.
Professor Gurr is a world expert on ecological approaches for pest control and helping farmers reduce dependence on pesticides. One pest he is tackling is the diamondback moth, the world's most serious pest of cabbage and other brassica vegetables, as well as oilseeds including canola.
Professor Gurr knows FAFU well, having worked there in a previous collaboration as a visiting professor. That earlier collaboration resulted in him publishing the complete genome of the diamondback moth, which generated worldwide attention.
"Knowing the moth's genome opens huge opportunities for understanding its biology and developing new control methods for use in China and Australia," Professor Gurr said.
Three new PhD students are already working with Professor Gurr on projects examining the moth's ability to detoxify plant defence chemicals, its response to plant odours, and interactions with biological control agents.
Meanwhile, Professor Gurr and another Australian researcher are investigating how rice plants can use certain forms of silicon to release more volatile signals that attract predatory insects which protect the rice from pests.
"Advances we make in these fundamental studies lay the foundation for new, more applied projects that we can run in Australia to address pests that attack broadacre and horticultural crops," Professor Gurr said.
"I am really excited by the synergies between the new initiatives in China and my ongoing work with the Graham Centre for Agricultural Innovation. With new researchers and collaborators we can crack some of the really tough nuts in pest control."
Professor Gurr's work on the establishing the genome of the diamondback moth was published in 2013 in the prestigious international journal Nature Genetics. See more on the event in CSU News.
The Graham Centre for Agricultural Innovation is a research alliance between CSU and NSW Department of Primary Industries.