* CSU expert says medical professionals need to be aware of risks of parasites in seafood
* Human infections with marine parasites are generally the result of ingesting uncooked seafood products
* A trend towards eating raw, exotic or under-cooked seafood increases the potential for diseases
A Charles Sturt University (CSU) expert aims to raise awareness of the risk to human health from parasites in seafood and call for better diagnostic testing, at an international conference of pathologists this weekend.
CSU senior research fellow and member of the Graham Centre for Agricultural Innovation, Associate Professor Shokoofeh Shamsi (pictured) has been invited to address the Royal College of Pathologists of Australasia's (RCPA) annual conference in Melbourne.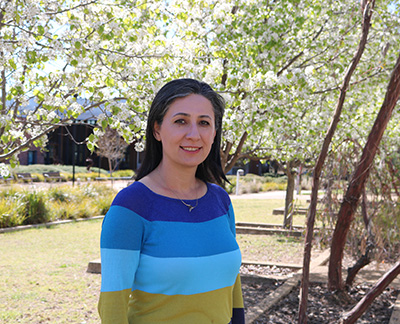 Professor Shamsi's research focuses on transmissible parasites between animals and humans. She has discovered more than 40 new parasite species and developed new protocols for detecting parasites in seafood.
"Seafood can contribute to a healthy diet and is safe when it is sourced, prepared and stored correctly," Professor Shamsi said.
"People are now eating more seafood more often and we have seen a trend towards eating raw, exotic or under-cooked seafood increasing the potential for diseases that have not previously been seen in humans.
"Human infections with marine parasites are generally the result of ingesting uncooked seafood products. So it's important that, as with any other meat or vegetable, fish is cooked thoroughly before consumption or has been kept frozen if it is to be consumed raw."
Literature suggests that some popular fish, sold in markets, may be infected with parasites transmissible to humans, however the number of reported human cases are low.
Professor Shamsi believes that this low-rate of human infection is due to a lack of expertise in Australia to accurately identify and diagnose seafood-borne parasitic infections.
"Infections caused by seafood borne parasites including anisakid nematodes and tapeworm can be serious but there are few reported cases in Australia, we believe due to misdiagnosis. It's important for medical doctors to be aware that seafood-borne parasites exist and for diagnostic tests to become available in Australia.
"Changes in parasitology teaching in Australian universities have also adversely impacted the ability to detect, collect and identify these parasites in patients," Professor Shamsi said.
Professor Shamsi will address the RCPA conference, 'Pathology Update 2019 – The Power of Personalised Pathology' from 11.00am on Saturday 23 February at the Melbourne Convention Centre.
The RCPA is the leading professional organisation representing pathologists, medical specialists and scientists who provide pathology testing in Australasia.