A Charles Sturt University (CSU) graduate has barely had a chance to settle back into the family dairy farm on the NSW mid north coast before he heads to New Zealand (NZ) on a Dairy Australia scholarship.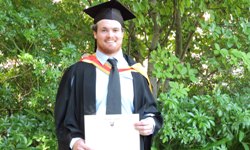 Agricultural business management graduate Mr Sam Nicholson is one of two CSU graduates to be awarded the 2015 Dairy Farm Business Management Scholarships to support postgraduate studies in NZ.
He'll join veterinary science student Mr Andrew Smith at Massey University in Palmerston North later this month to complete a Diploma in Agriculture Commerce in 2015.
Mr Nicholson is from Taree while Mr Smith is from Bulahdelah, which are both located on the NSW Mid North Coast.
Mr Nicholson, who graduated from the School of Agricultural and Wine Sciences at CSU in Orange in December, said "The Dairy Australia scholarship will give me a great foot in the door to pursue a career within the dairy industry when I return to Australia at the end of the year."
Mr Smith said, "I believe that the scholarship presents a great opportunity to expand my knowledge of the wider dairy industry by combining my undergraduate science degree with a formal business qualification.
"I believe that with both these qualifications, I will be well placed to contribute both at home on my family's dairy farm as well as at an industry level. Further to this, the opportunity to learn from both farmers and industry professionals in a progressive dairy industry such as that of New Zealand also excites me."
Senior Lecturer in Agribusiness Dr Karl Behrendt said, "Both Sam and Andrew should be congratulated for securing these national and highly competitive scholarships. The fact that two Charles Sturt University graduates were awarded scholarships demonstrates the relevance of our programs to industry."
Dairy Australia, in collaboration with the New Zealand Centre for Excellence for Farm Business Management, offers two scholarships annually to 'grow the capability in farm business management across the Australian dairy sector'.
Read more about the scholarship recipients on ABC Rural here.