It can grow up to 14 centimetres long, has hooked claws and Charles Sturt University (CSU) researchers have discovered this parasite appears to be common in the noses of wild dogs.
Loading...
Only 10 cases of tongue worm or Linguatula serrata had been reported in Australia in the past 200 years but research by CSU Bachelor of Animal Science (Honours)students Ms Kate McSpadden and Ms Sara Baker has found it's much more common than first thought.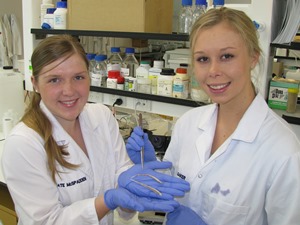 The two students from CSU's School of Animal and Veterinary Sciences have been investigating the parasite under the guidance of Dr Shokoofeh Shamsi and Dr David Jenkins.
A senior research fellow in parasitology, Dr Jenkins said despite its name the parasite is not actually a worm.
"It's actually an arthropod and has a long flat structure, wide at the head tapering down towards the tail and it has four claws at the front which can go in and out," he said.
"It's been considered a veterinary curiosity in Australia and there's so much we don't know and that's what is exciting.
"The discovery is significant because the parasite could potentially affect humans and we know it will infect domestic and wild dogs. So it's a new parasite to consider when treating dogs for worms, ticks or fleas."
The research has involved examining foxes and wild dogs to look for the presence of tongue worm in the nasal cavity.
Ms McSpadden, originally from Grenfell in central west NSW, was awarded the prize for the best oral poster presentation at the recent Australian and New Zealand Society for Parasitology Conference.
"We just got more excited to go further into the parasite to learn just exactly how common it is," she said. "It just makes you excited to come into the lab because this is real research. I was proud to present my findings at an international conference."
Ms Baker's interest in livestock was developed on her family farm at Creighton's Creek in north east Victoria. She's been looking for the presence of the tongue worm in the lymph nodes of cattle, along with feral pigs and rabbits.
"I've examined the lymph nodes from more than 160 NSW and Victorian cattle that have been grazed in rough, mountainous areas along the Great Dividing Range where there are wild dogs and foxes present," she said. "Seven cows in total have had the infective nymph stage of the tongue worm."
CSU senior lecturer in parasitology, Dr Shamsi said the discovery has led to more research questions than answers.
"We need to understand much more about this parasite, its transmission pattern, how it gets to its hosts and the potential health impact of the parasite on the host," said Dr Shamsi.
"Further investigation is also needed to understand the role of native wildlife like kangaroos and wallabies, along with feral animals like pigs and rabbits in the lifecycle.
"We're also looking at the DNA to see if this parasite is unique to Australia or if it's been brought in from other parts of the world where the tongue worm is found."
Dr Shamsi and Dr Jenkins are members of the Graham Centre for Agricultural Innovation.