Small producers of cattle or sheep in the Riverina are being sought for Charles Sturt University (CSU) research focussed on better understanding the needs of smallholder producers.
Researchers from the School of Animal and Veterinary Sciences at CSU in Wagga Wagga are investigating the communication networks, motivations and extension needs among different livestock production sectors in southeast Australia.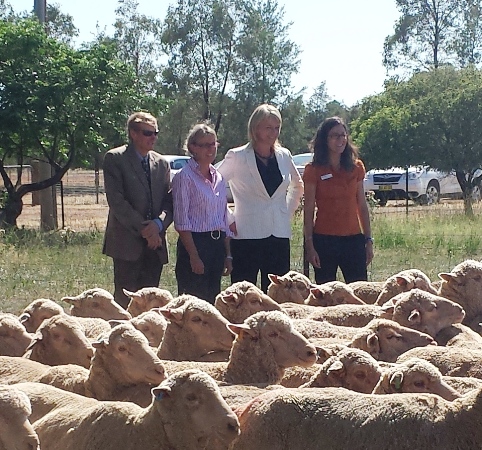 Principal researcher Dr Marta Hernandez-Jover said, "We are examining how improved communication and extension strategies may assist in farm management in relation to biosecurity, animal health and management of emergency animal diseases.
"It follows an earlier study, based on a national survey among smallholder producers, which indicated that there is a need for more efficient extension strategies to support these producers in relation to animal health management.
"We need eight to 10 producers with between one and 50 cattle or sheep (that is they cannot keep more than 50 head of either species) to participate in an initial focus group discussion and a
second focus group meeting, six to eight months later.
"Between the two focus group sessions, producers will be asked to complete a simple checklist to keep records of communication and extension methods and the biosecurity and disease management practices used."
The project is supported by the Commonwealth Department of Agriculture and the Graham Centre for Agricultural Innovation – a research alliance between CSU and NSW Department of Primary Industries.
The focus group will meet at CSU in Wagga Wagga, with an initial meeting proposed for Thursday 26 February from 5.30pm to 8.30pm or Friday 27 February from 10am to 1pm.
Interested producers should contact research assistant in the School of Animal and Veterinary Sciences Ms Lynne Hayes on email: lhayes@csu.edu.au or telephone (02) 6933 2802.
Participants will receive a $50 gift voucher for each focus group discussion as recognition of their time and contribution. Food will also be provided. In addition, participants will receive resources and guidance in the area of livestock production and management.
The project, Investigating attitudes, behaviours and communication networks in relation to biosecurity and emergency animal disease among smallholder producers in NSW and Victoria has the approval of the CSU Ethics Committee.