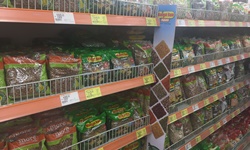 The push to develop the market for Australian chickpeas in India is drawing on the expertise of a Charles Sturt University (CSU) psychology researcher to understand what consumers want.
Professor Anthony Saliba, from the Functional Grains Centre at CSU in Wagga Wagga travelled to India in late 2016 to interview people about how they buy, use and cook the pulse.
"The Indian sub-continent accounts for more than 85 per cent of Australia's chickpea exports," Professor Saliba said.
"This research aims to give us an understanding of what consumers want and help us to predict what the market will be looking for in the future.
"We visited people's homes so we could not only talk to them about their buying habits but we could see what was in the kitchen and they could show us how they cook with the product," Professor Saliba said.
"We found that chickpeas are used in many different ways, from traditional dishes to chutneys, dry dips and even in cosmetics."
Professor Saliba and postdoctoral research student Dr Erica McIntyre also went to Indian markets, supermarkets and hypermarkets, which combine a supermarket and a department store, along with high-end importers.
Professor Saliba said there's been a significant shift in consumers buying patterns since his last research visit to the sub-continent three years ago.
"Traditionally chickpeas would be bought from bulk hoppers in an open market but we've seen consumers move towards buying packaged products from stores," Professor Saliba said.
"Our research showed consumers who aren't buying packaged chickpeas now, certainly aspire to in the future. It's a move being driven by perceptions of quality, food hygiene and consistent supply."
Professor Saliba said Australia is also facing increased competition in the Indian market.
"During our last visit three years ago, importers and marketers were talking about chickpeas from a few countries other than Australia," Professor Saliba said.
"This time around they were talking about seven or eight competitors to Australia, some of them have a low cost base and the quality was already high in some cases."
The next step is to quantify the observations and claims made in the ethnographic research by collecting data through an online survey.
The research is funded by the Grains Research and Development Corporation.