A leading agricultural research scientist has called for real rewards for Australian farmers for their sustainable production of food.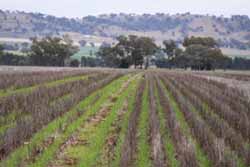 Professor of Agricultural Innovation at Charles Sturt University (CSU) and Director of the
EH Graham Centre for Agricultural Innovation,
Deirdre Lemerle has made the call as she prepares to unveil a new field site to showcase the research underway to secure the future of crops and pastures.
"The site showcases our cutting edge research which I believe will shape the future of mixed farming systems in south eastern Australia," Professor Lemerle said.
"In the last 20 to 30 years, agricultural industries have made enormous progress towards improved sustainability. Our farmers must be rewarded by the government and consumers for the real cost of sustainable food production."
Professor Lemerle was recognised internationally earlier this year when she featured in the documentary, Sisters, which screened in the Australian Pavilion at the World Expo Shanghai 2010 in China. The researcher was also a member of the Governor General, Her Excellency Ms Quentin Bryce's, AC, delegation to China in June.
The EH Graham Centre for Agricultural Innovation - a collaborative alliance between CSU and Industry & Investment NSW - is celebrating its fifth anniversary in 2010.
The new 13 hectare field site in Wagga Wagga, NSW, will be launched from 9am on Wednesday 8 September and aims to further develop the EH Graham Centre's ties with industry and highlight the new knowledge being created to ensure a sustainable agricultural sector.
"The field site demonstrates what we are doing to assist farmers, advisers and natural resource managers to develop and maintain robust mixed farming systems."
The NSW Natural Resources Commissioner, adjunct Professor at CSU and respected scientist, Dr John Williams, will address the field site launch from 9.15am.
On show at the field site is a range of wheat varieties released between 1901 and 2009 to demonstrate genetic gains from plant breeding; early and late sown forage canola crops; controlled traffic wheat crop; forage crops for hay and silage; damage risks from commonly used herbicides; a soil pit; and biochar for carbon capture.