Agricultural science student at Charles Sturt University (CSU) Miss Helen De Costa is no stranger to attracting grants and scholarships.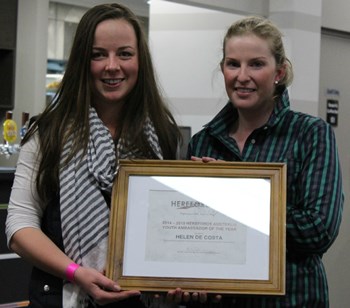 The teenager from the NSW Southern Highlands was recently named the Herefords Australia Youth Ambassador for 2015.
In March, the second-year Bachelor of Agricultural Science student was awarded a Royal Agricultural Society of NSW Foundation 2015 Community Futures Grant.
Valued at up to $25 000, the grant is being used to replace the cattle yards at the Braidwood Showground.
During the Herefords Australia National Youth Heifer Show at Bathurst earlier this month, Miss De Costa received $1 000 towards the cost of her studies.
As an ambassador she promoted the breed and beef industry, running workshops and attending shows and sales.
In 2014 Miss De Costa was awarded the annual CM Hocking Scholarship from Herefords Australia to help her with her studies through the School of Agricultural and Wine Sciences at CSU in Wagga Wagga.
"Studying at University will help me to become more involved in agriculture, allowing me to put back into the industry the knowledge I've gained," Miss De Costa said.
"It's a great honour being named 'Ambassador of the Year', I would love to continue to encourage young people to be involved in the Hereford breed and beef industry.
"It's helped me learn new life skills and my communication network has grown considerably. I would like to thank Herefords Australia for the opportunity to be an ambassador, along with the CM Hocking Scholarship and everyone who helped me along the way." said Miss De Costa.
Agricultural program leader with CSU's School of Agricultural and Wine Sciences, Dr Jason Condon, said, "It's always great to see our students playing important roles within our industry.
"Charles Sturt University's agriculture students are well represented in competitive scholarships within the agricultural sector and there is a groundswell of youth engagement in agriculture at the moment which provides hope for the sector in the years to come."From a young age, Miss De Costa has competed at Hereford Youth shows and is building a stud herd with the support of Cloverlee Poll Herefords at Bannister in NSW.