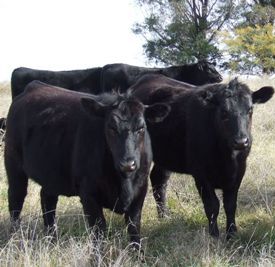 More than 200 producers and industry representatives at the recent Charles Sturt University (CSU) 'The Business of Beef' forum gained valuable insights into the global challenges that beef producers face.
Senior lecturer in agribusiness in the CSU School of Agricultural and Wines Sciences in Orange, Dr Karl Behrendt, said the forum last month at Blayney, NSW, covered everything from marketing to genetic improvement.
"While Australian beef producers maintain some of the lowest cost cow/calf production systems in the world, they also experience lower returns due to both lower prices and higher production costs," Dr Behrendt told the forum.
"While the drought has lowered prices for all livestock, it's also raised production costs especially for feed and agistment. Australian Beef finishing profits are struggling, but on a whole-farm basis profits are much better when cows, calves and crops are taken into account."
Dr Behrendt said other speakers such as veterinarian Dr Enoch Bergman examined heifer reproductive management in his talk on how to 'build' a better cow.
"Dr Bergman considered why it's important to join heifers to calve as two year- olds and cull those that don't get in calf after a couple of cycles; otherwise they risk a major loss of production when these heifers are joined for their second calving," Dr Behrendt said.
Speakers also focused on genetic improvement and nutrition management to improve productivity in the herd as well as the latest technology the processing sector is using to improve the eating quality of meat, with enhanced returns for producers.
"There was something for everyone who attended and the feedback forms returned at the end of the day indicated producers would use it to enhance their farm practices well into the future," Dr Behrendt said.
"Some of the other speakers included Meat and Livestock Australia chief economist Mr Tim McRae who outlined why the Australian price was lagging record beef prices in the United States but outlined a positive future for the Australian industry.
"The immediate past CEO of the Northern Territory Cattlemen's Association, Mr Luke Bowen, focused on the crisis the Northern Australian beef industry faced after the Indonesia live cattle trade closed with Australia. It was an emotional speech which highlighted what the whole industry needs to do if we encounter a similar crisis in the future.
"And Meat Livestock Australia's Mr Jim Rothwell spoke about the latest overview of animal welfare issues and how the industry was moving to meet new requirements or challenges."