The Federal Minister for Agriculture, The Hon Barnaby Joyce MP, has visited the Graham Centre for Agricultural Innovation at Charles Sturt University (CSU) in Wagga Wagga to see first-hand research to enhance Australian agriculture.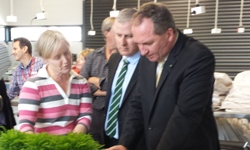 The visit, on Thursday 6 November, followed an invitation to the Minister from Centre Director Professor Deirdre Lemerle extended through the Federal Member for Riverina Mr Michael McCormack, MP.
Minister Joyce visited research facilities including the phytotron, glasshouses and National Life Sciences Hub. He spoke with academics and PhD students involved in a wide-range of research from the development of new hard-seeded legume options, to biosecurity and pest management, and improving the market value of chickpeas.
Talks were also held about agricultural education with Emeritus Professor Jim Pratley who compiled the Agricultural Education and Training in NSW report for the NSW Government in 2013.
Professor Lemerle said "We are establishing a strong collaboration with four regional farming systems groups, representing over 2000 farmers in dryland and irrigated systems, for seamless knowledge transfer and adoption of research.
The Minister's visit was an opportunity to showcase this collaboration and highlight the research that Charles Sturt University students and staff are undertaking to increase on-farm productivity and profitability which is essential to the progression of the Australian agricultural industry."
Noting the strong demand for CSU agricultural science graduates, Minister Joyce told the media that he welcomed the investment in the Graham Centre to help Australian agriculture get ahead: Listen to the Minister at the Graham Centre here.
The Graham Centre is a collaborative research alliance between CSU and NSW Department of Primary Industries.