When it comes to putting their knowledge of grain production and marketing into practice, Charles Sturt University (CSU) agriculture students have shown they're the cream of the crop.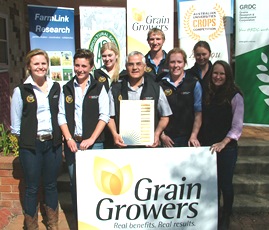 The seven-member CSU team scooped the pool at the Australian Universities Crops Competition hosted by GrainGrowers in Temora from Wednesday 16 to Friday 18 September.
CSU was named as the top team overall and CS U students claimed the first three places in the individual competition.
Bachelor of Agricultural Science (Honours) student Mr Matthew Dunn, originally from Leeton in the Riverina, was the highest scoring competitor and has been awarded an overseas study tour to further his knowledge of grain production.
"I'm really looking forward to the study tour and am hoping to gain some insight into the unique American agricultural production systems," he said. "I find American agriculture very interesting and am honoured to have been given this opportunity.
"Once I graduate I hope to find a job in agronomy, agricultural research, or plant breeding."
Other CSU students weren't far behind in the points score. Ms Jessica Kirkpatrick from Beaufort in Victoria was awarded second place, and Ms Cheyne Gibbs from Urana in southern NSW claimed third prize.
The annual crop competition tests students on everything from seed identification and grain grading to business management and production practices.
Seven universities, including two from the United States, took part in the event.
Head of the CSU School of Agricultural and Wine Sciences Professor Gavin Ash said the team's success is a testament to the industry-relevant knowledge and practical skills they have gained throughout their studies.
"The outstanding success of the team reflects the students' dedication and skill, and also the field-based, authentic approach to education Charles Sturt University is renowned for," Professor Ash said.
"Charles Sturt University has a mixture of state-of-the-art laboratories and teaching spaces with close proximity to the University's commercial farm. Our students study on-farm, real world problems from first year and throughout their degrees."
Coach and team supervisor Dr Sergio Moroni from the School of Agricultural and Wine Sciences said the competition offered students an opportunity to meet top agriculture students from across Australia and overseas.
"The Charles Sturt University team showed a high level of maturity, cohesion, organisational skills and focus," he said.
"They volunteered to be part of the team and worked very hard outside of their study commitments to accomplish such an impressive achievement.
"I had the privilege to share in their excellent and confident performance during the competition. The seriousness of the competition, however, did not deter them from enjoying themselves".