Charles Sturt University (CSU) expert in poultry behaviour and welfare Dr Raf Freire is calling for the new standard for free range egg production to consider more than the number of hens per hectare on the open range.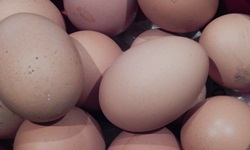 Australia's consumer affairs ministers have agreed to develop a national, enforceable standard defining what can be labelled as free range eggs.
While much attention has focused on defining free range in terms of stocking density on the range, Dr Freire, from CSU's School of Animal and Veterinary Sciences, believes this is missing the point.
He said there are more important reasons why many birds in free-range systems never venture out onto the open range.
"One of these is the actual ability of hens to get out of the sheds," said Dr Freire. "In large groups of hens and in big sheds, hens are not able to reach the pop-holes, the exit to the range, and so never venture outside.
"Clearly, the number of pop-holes and their width are critical factors in influencing whether hens are able to get out of the sheds, and recent research indicates that there should be no more than 200 birds per metre of pop-hole.
"This is very rare in large sheds and even the code of practice is above this figure, recommending 500 birds per metre of pop-hole."
Dr Freire has been reviewing research from around the world and said flock size, shed size, design of the system and amount of overhead cover on the range all contribute to whether hens will roam on a range.
"Overhead cover is the most critical aspect enticing birds to roam once on the range and move further away from the house," he said.
"Hens rely on trees and other overhead cover for protection from predatory birds and are likely to find large open areas with few birds aversive.
"For this reason, focussing on the stocking density on the range is unlikely to tackle the issue of whether hens are able to roam freely on the range"
Contrary to some views, Dr Freire believes consumers have a clear idea of what should constitute free-range.
"Overseas surveys of consumers indicate that consumers are clear as to what they expect free-range to mean. Simply, they expect hens to move around on an open range every day," he said. Freire.
Dr Freire and researchers from the University of Bristol in the United Kingdom have been invited to submit a review on the issue for the World Poultry Science Journal.
Dr Freire is also a member of the Graham Centre for Agricultural Innovation. Read more about his research into the welfare of layer hens here.