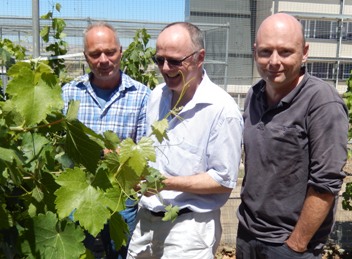 Research undertaken by the National Wine and Grape Industry Centre at Charles Sturt University (CSU) in Wagga Wagga has paved the way for a quick and low-cost method of measuring the concentration of nutrients in grapevines.
The research, by Dr Jason Smith, Dr Leigh Schmidtke, and PhD student Mr Markus Muller from CSU's School of Agricultural and Wine Sciences and Dr Bruno Holzapfel from the NSW Department of Primary Industries, has also been recognised with an award highlighting its potential impact on the Australian viticulture industry.
The team investigated a new method of plant tissue analysis, attenuated total reflectance Fourier transform infrared spectroscopy (ATR-FT-IR), which is rapid and requires little sample preparation making it ideal for use in viticulture.
Dr Smith said it brings a new application for an instrument already used across a wide range of industries.
"We've developed calibrations that will allow this instrument to be used in viticulture so growers can measure macronutrients in their grapevines," he said.
"This information can act as a guide for seasonal fertiliser requirements or managing longer-term issues with mineral nutrient deficiency or excess."
Dr Holzapfel said a more accurate fertiliser program can save money and also influence the quality of the grapes and wine produced.
"Aside from maintaining productive vines, from a winemaking perspective the nutrients in the vines affect the composition of the fruit and the finished wine," he said. "It's also important that nutrient levels of grapevines are managed after harvest to ensure appropriate production of fruit in the following season."
Traditionally grape growers take plant tissue samples at flowering time and these are sent to a commercial laboratory for testing, a process which can take weeks.
Dr Schmidtke said the new method will be quicker and more accessible for growers, providing better decision making tools for vineyard management.
"The next phase is to develop guidelines that allow growers to be able to interpret the results," he said.
The research paper, Measurement of the concentration of nutrients in grapevine petioles by attenuated total reflectance Fourier transform infrared spectroscopy and chemometrics, was named the Australian Society for Viticulture and Oenology's Viticulture Research Paper for 2014.
The award is presented to the authors of the paper published in the Australian Journal of Grape and Wine Research that's considered to have the greatest potential impact upon the Australian viticulture industry.
The research has been carried out through the National Wine and Grape Industry Centre (NWGIC) in Wagga Wagga, building on a series of earlier projects funded through the Australian Grape and Wine Authority.
Loading...