Researchers from Charles Sturt University (CSU) will go back to where the problem of Paterson's curse began for Australia – in the Mediterranean.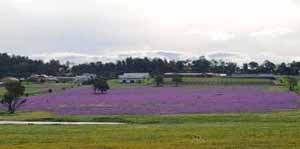 A native to the eastern Mediterranean introduced to Australia in the mid 1800s, Paterson's curse is a noxious weed locally and can be toxic to livestock.
CSU's Professor of Plant Biology and Weed Science Leslie Weston and Professor of Applied Ecology Geoff Gurr have secured an Australian Research Council (ARC) grant to investigate how noxious weeds like Paterson's curse become such successful invaders in non-native environments and ways of managing these weeds more effectively.
They are joined by Professor Ragan Callaway from the University of Montana in the USA
"We want to understand why some plant species become aggressive exotic invaders, like Paterson's curse in Australia, yet are present in low densities in their native habitat," Professor Weston said.
Paterson's curse has become a serious invasive weed in Australia with losses to agricultural industries estimated at over $125 million a year. While biological control insects have enjoyed some localised and sporadic success against Paterson's curse, the weed continues to spread and adapt to diverse landscapes across southern Australia.
"This new ARC project continues my research funded by the Rural Industries Research and Development Corporation into Paterson's curse and its bio-control agents for the past two years," Professor Weston said.
"This has led to some interesting findings about the potentially toxic secondary compounds produced by Paterson's curse in its shoots (pyrrolizidine alkaloids) and in its roots (a novel family of naphthoquinones).
"Both of these compounds are involved in plant defence and may be more prevalent in the invaded range of the species (Australia) than its native range (in the Mediterranean).
"Here in Australia, we determined that these compounds are present in up to 10 fold higher concentrations in plants collected from hotter, drier locations across NSW and Victoria than cooler, locations in higher rainfall zones.
"Therefore our project will focus on the establishment of Paterson's curse not only in various environments in Australia, its invaded range, but also in its native Portugal and Spain."
Professor Gurr said the really exciting thing about the project is that it is the first worldwide to look at the full range of effects caused by the compounds produced by an invasive plant.
"These effects might range from suppressing competitor plants, affecting the insects that feed on Paterson's curse and even extend to effects on the natural enemies of the herbivores," he said.
Professor Callaway - a leading US scientist and plant ecologist - has developed a hypothesis called the 'novel weapons' hypothesis that states that many highly invasive species have developed mechanisms to produce and release toxic secondary products or novel weapons which strongly contribute to plant defence and thus enhance successful plant invasion over time.
Also involved in the ARC project is entomologist, chemical ecologist and a lecturer in the School of Agriculture and Wine Sciences at CSU, Dr Paul A. Weston; Mr Dominik Skoneczny from Poland who will also be studying plant/insect chemical interactions in Paterson's curse for his PhD; and third year Bachelor of Agricultural Science student Ms Bridget Ryan, who participated in a 10-week Graham Centre student internship and continues her work in the laboratory.
The $335 000 project, Invasive plant success and multi-trophic level chemical ecology using Paterson's curse as a model is funded by the Australian Research Council under its Discovery Projects scheme from 2013 to 2015.
Read about new ARC funded research at the University on CSU News
here
.