It will be a well worn path for one family from southern NSW during a graduation ceremony at Charles Sturt University (CSU) in Wagga Wagga on Wednesday 14 December.
Miss Katherine Bowler, from Holbrook, will become the third generation of her family to receive an agricultural science degree from CSU and its predecessor institutions.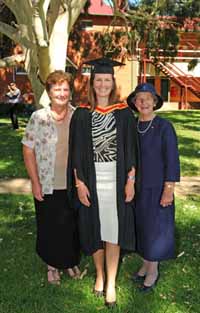 Miss Bowler's mother, Mrs Rita Bowler (nee Kemp) was awarded her agricultural science diploma from one of CSU's predecessor institutions, the Riverina College of Advanced Education. Mrs Bowler's father, Mr Jim Kemp was also awarded an agricultural qualification from the Wagga Wagga Agricultural College.
"My grandfather passed away earlier this year at the age of 80 so I will attend my graduation with my grandmother and my mother, who helps run a mixed farming property at Holbrook," said Miss Bowler.
"Given my family's history with Charles Sturt University, I am very excited to receive my degree."
During her study, Miss Bowler was among a group of agricultural science students to visit Vietnam in 2011 as part of the University's focus on international experience for students. Read more on CSU News
here
.
Miss Bowler is hoping to find employment in rural property management.
Lecturer, Dr Jason Condon from the
School of Agricultural and Wine Sciences
at CSU in Wagga Wagga said, "As far as I am aware, Katherine's graduation is the first time three generations of one family have graduated with agricultural science qualifications from our institution".
Miss Bowler is one of more than 150 graduates from the Faculty of Science to receive their awards from acting Chancellor Professor Nick Klomp from 5.30pm in Joyes Hall, CSU in Wagga Wagga on Wednesday 14 December. Read more on CSU News
here
.