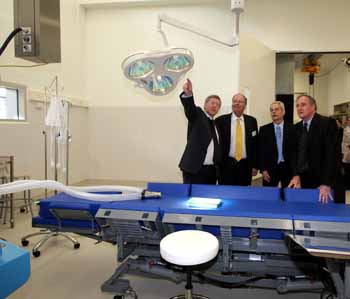 Charles Sturt University (CSU) has taken another step forward in its progress towards leadership and excellence in veterinary science with the commissioning of its new Veterinary Clinical Centre.
Located on CSU's Wagga Wagga Campus in NSW, the $9 million centre will be opened at 10am on Wednesday 9 July by the federal Minister for Home Affairs, The Hon. Bob Debus MP.
The Veterinary Clinical Centre is a striking building and has recently received a major award for the architects, engineers and builders, acknowledging the brilliance of its design.
The facility includes large and small animal operating theatres as well as wards where an animal's recovery can be monitored by video link. The theatres are supported by the latest in diagnostic imaging and anaesthetic equipment. The equine reproduction unit for horses is an outstanding teaching and clinical resource.
Current fourth year veterinary science students are using the Veterinary Clinical Centre's tutorial space and teaching laboratories to develop skills in surgery through a community-based desexing program for cats and dogs. Students can also witness and assist in more complicated equine, farm animal and small animal procedures performed by some of the University's experienced specialist veterinary surgeons.
The official guests due to attend the opening include the Hon. Mr Debus, MP, Chief Executive Officer of Thoroughbred Breeders Australia and former federal Minister for Agriculture, Mr Peter McGauran, and leading Australian equine veterinarian, Dr Nigel Nichols.
Representing CSU will be the Chancellor Mr Lawrie Willett, AO, Vice-Chancellor and President Professor Ian Goulter and Head of the CSU School of Animal and Veterinary Sciences, Professor Kym Abbott.
"This facility will train veterinarians to work with horses, other large animals and small companion animals in the fields of surgery, medicine, diagnostic imaging and reproduction," said Professor Kym Abbott.
"These are the skills which will keep rural practices viable and keep veterinarians in regional centres throughout inland Australia, as well as ensuring that our graduates will have the opportunity to work in any field they choose in future, in any country in the world."
The new Veterinary Clinical Centre is the hub for many of the specialist veterinary staff attracted to CSU and the regional city of Wagga Wagga since the start of the veterinary science degree in 2005. They include Centre Director, Associate Professor Equine Surgery Bryan Hilbert and Head of Small Animal Surgery, Professor Bruce Christie. Read more about CSU veterinary science staff
here.