Charles Sturt University (CSU) is mourning the loss of a long serving staff member and food scientist, Associate Professor Samson Agboola.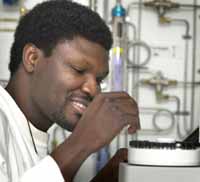 Professor Agboola, 46, died in Wagga Wagga Base Hospital on Saturday 28 April after a short illness, leaving behind his wife Bolanle and three daughters.
Vice-Chancellor and President of CSU Professor Andrew Vann said, "The Charles Sturt University community is greatly saddened by the death of a valued colleague and friend and we extend our condolences to Samson's extended family and friends."
He began his career as a food scientist in the private sector in Nigeria before being awarded a Commonwealth Scholarship by the Canadian Government to complete in 1996 a PhD in Food Science at the University of Guelph in Ontario.
His research focused on the stability of oil-in-water emulsions formed with milk proteins. After working as a post-doctoral fellow at Massey University in New Zealand, Professor Agboola moved to Australia to join CSU as a lecturer in 1997.
One of his colleagues at CSU, Associate Professor Chris Blanchard said, "Samson had a brilliant mind that he applied to complex research problems but also had a generous and compassionate heart that made him such a successful teacher and postgraduate student supervisor. His extensive list of research publications will be a permanent record of his contribution to science but in my mind it will be his smiling face and cheeky sense of humour that I will always remember".
Professor Agboola held positions including Senior Lecturer, Course Coordinator and Associate Head of the School of Agricultural and Wine Sciences. In 2010, he became an Associate Professor of Food Chemistry. In 2012, he was part of the Chemistry Teaching Team that won the 2011 CSU Vice Chancellors Award for Teaching Excellence.
In addition to lecturing in food chemistry and protein chemistry and his supervision of many PhD students, his research interests extended to the functional properties of Australian native foods, stability of dairy oil-in-water emulsions and beverages, influence of diet on milk fat nutritional quality, utilisation of whey proteins and its hydrolysates in product formulation, development of alternative milk coagulants for cheese making and biochemistry of cheese maturation. More recently, Professor Agboola turned his hand to improving the value of pulses and canola.
The CSU academic was widely published with more than 50 research publications in books and international refereed journals.
Director of the Graham Centre for Agricultural Innovation, Professor Deirdre Lemerle said, "Samson was an outstanding researcher and member of the Graham Centre who was well respected amongst his peers and had a fantastic rapport with his students. He challenged people to think outside the square. Samson was enthusiastic about his research and was extremely likeable".
Professor Agboola's funeral service will be held from 11am on Thursday 3 May at The Promise Centre, 48 Vestey Street in Wagga Wagga. After the service, a cortege will proceed to the Wagga Wagga Lawn Cemetery. In lieu of flowers, donations will be gratefully accepted at the service for the Rivercity Christian Church.