New research at Charles Sturt University (CSU), funded by the Grains Research and Development Corporation (GRDC), has shown that proteins in canola meal have potential as an ingredient in food.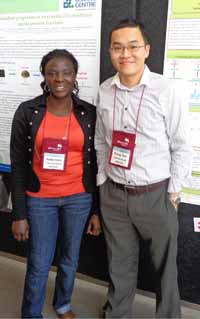 A PhD graduate from the
School of Agricultural and Wine Sciences
at CSU in Wagga Wagga, Dr Siong Tan, investigated the possibility of using proteins from canola meal in Australia as ingredients in food for humans.
Canola meal is a by-product of the extraction of canola oil. It is used mainly as a livestock feed and it is regarded as a rich source of protein for animals.
In his PhD, Dr Tan extracted proteins from the canola meal using an alternative method known as Osborne protein extraction instead of the traditional alkaline extraction method.
He then tested the proteins for their emulsifying ability to help two immiscible liquids, such as oil and water, to mix and stay mixed and then tested for their gelling properties.
"The results of my research show that canola proteins have great potential as highly functional ingredients for food products such as mayonnaise, sauce, soup, and jelly-like dessert," Dr Tan said. "This adds significant value to the value of the Australian canola industry.
"This is the first investigation that characterised in detail the canola proteins obtained by the Osborne protein extraction method. It included extraction yield profile, electrophoretic profile, residual anti nutrient content, and protein technological functionalities.
"It can be concluded that, in comparison to the proteins obtained by the commonly used direct alkaline extraction method, the Osborne canola protein extracts, particularly the salt solution-soluble fraction, had wider applications and greater potential as a food ingredient."
Associate Professor in Food Science Chris Blanchard, with the
School of Biomedical Sciences
at CSU in Wagga Wagga, was one of Dr Tan's PhD supervisors.
"Siong's research has the potential to dramatically increase the value of canola meal and increase the profitability of Australian canola production," he said.
"However, further research is required to trial the newly developed protein fractions in food systems.
Dr Tan will be awarded his PhD, Extraction, Characterization and Functional Studies of Australian Canola Proteins during a graduation ceremony at CSU in Wagga Wagga from 3pm on Monday 16 December.