The establishment of a drought monitoring system in Australia using remote sensing tools is one project catching the attention of the new head of the International Centre of WATER for Food Security (IC WATER) at Charles Sturt University (CSU).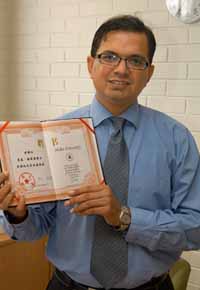 As Associate Professor of Hydrology and Remote Sensing, Mohsin Hafeez is the new Director of IC WATER. His appointment follows the departure of founding director Professor Shahbaz Khan to a new role with the United Nations Educational, Scientific and Cultural Organisation (UNESCO) in Paris, France.
IC WATER works on water problems by seeking local solutions which can be applied globally. The centre is the Australasian host of the UNESCO's Hydrology for the Environment, Life and Policy (HELP) initiative under its International Hydrology Program.
Dr Hafeez had 13 years of research, teaching and management experience in various academic and research institutions around the world. He has been a researcher in agricultural water management, natural resources, surface and ground water hydrology, hydraulic modeling, the application of remote sensing and Geographical Information Science (GIS) for irrigation water management on three continents. He has worked on research projects in the efficient use of water in China, Pakistan, the Philippines, and Uzbekistan in Asia, in Ghana and Burkina Faso in Africa, as well as in Germany in Europe.
Immediately prior to joining CSU in 2008, Professor Hafeez worked at CSIRO Land and Water where he worked on novel and ground breaking research in irrigation water management including the Hotspot project, Pratt Water Initiative, Water for Healthy Country Flagship, Cooperative Research Centre (CRC) for Irrigation Futures System Harmonization Program, and the Australian Centre for International Agricultural Research's (ACIAR) Growing More Rice with Less Water project in China.
He was a key team member of the 2007 Eureka Prize for Water Research and Innovation and the 2007 CSIRO Medal for Research Achievements. In June 2008, following a seven year scientific relationship with the institution, Professor Hafeez was made a guest professor at Hubei University in the Chinese city of Wuhan.
Professor Hafeez now leads a CSU research group focusing on developing an innovative hydrological modelling decision support systems coupled with remote sensing and GIS tools for matching irrigation supply and demand 'in real time' for the Coleambally irrigation system in southern NSW.
"We hope this will revolutionize the current thinking in irrigation water management and provide a breakthrough for addressing complex environmental management issues across Australia," said Professor Hafeez.
Professor Hafeez said that "Estimates of actual and potential evapotranspiration, soil moisture and crop water deficit based on remote sensing are effective indicators for drought monitoring and could be effectively used for developing an operational drought monitoring system in Australia".
The new IC WATER Director recently addressed the 11th annual International River Symposium in Brisbane on, 'Mapping and monitoring of drought severity in the Murrumbidgee catchment using optical-thermal satellite data',