A veterinarian researching infectious diseases in wild pigeons and doves in Australia and overseas has supported calls for hobby pigeon owners to follow good biosecurity practices, following the NSW Department of Primary Industries (DPI) declaration on Thursday 15 September that the avian paramyxovirus is a notifiable emergency animal disease.
"Pigeon owners should limit the risk to their flocks by practising strict biosecurity," said Dr Andrew Peters, a veterinarian who is currently doing a PhD at Charles Sturt University (CSU) in Wagga Wagga. He is researching infectious diseases in wild pigeons and doves in NSW, Queensland, Northern Territory and Papua New Guinea.
"Pigeons should not be moved around, and great care should be taken not to introduce the virus to a flock.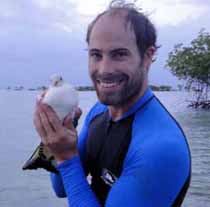 "Paramyxoviruses are an important group of viruses found in many species of birds, including domestic poultry and pigeons, and the virus, which has not been previously found in Australia, caused deaths in a number of hobby pigeon flocks in Victoria earlier this month.
"A variety of different strains of paramyxovirus are found in domestic and wild birds. Some strains can infect a wide variety of bird species, while other strains are only known to infect a single species.
"In some cases the virus does not cause any disease, but in other cases it is capable of causing large numbers of deaths in wild and domestic birds. For this reason it is internationally listed as one of the 15 most important infectious diseases for animal agriculture.
"While many strains do not affect humans, some are capable of causing disease in humans also.
"Some paramyxovirus strains occur naturally in wild birds and can spill over into domestic flocks, while other strains are restricted to domestic bird populations.
"Typical management practices for paramyxoviruses include restricting access to flocks by people who have recently been in contact with other birds; restricting the introduction of new birds to the flock; and protecting water and food from contamination by wild birds."
Dr Peters is warning that domestic pigeons are not the only pigeons in Australia.
"Our region including Australia and New Guinea is a hotspot for biodiversity in pigeons and doves, and it has more than one-fifth of the few hundred species that are found in the world.
"This includes such strange birds as the giant ground-dwelling purple Gouras of the rainforests and the quirky and beautiful Spinifex Pigeon of the desert.
"Many of our unique pigeons and doves have important ecosystem functions such as seed dispersal for rainforest plants, or the movement of nutrients to areas such as coral islands which have little soil.
"They also have a place in contemporary Australian culture, often being some of the most recognisable and well-known wildlife species in urban and rural Australia. We have a precious and unique resource to protect in our native pigeons and doves, and yet have little idea about the impact diseases of domestic birds might have on them," said Dr Peters.
Further information about the avian paramyxovirus can be found from NSW DPI
here
.